If you are a vegan or perhaps are on a low-fat diet, or just cutting out dairy, your gonna want to know more about this vegetarian substitute for parmesan cheese. Many think that switching to a vegan diet is too hard, however living a plant-based lifestyle has never been easier than it is today. Contrary to what you may think there's a vegan replacement for everything from milk to meat and of course parmesan cheese.
It is widely known that adopting a plant-based diet can have major health benefits for both your body and the world. If you're cutting dairy from your diet but you miss sprinkling Parmesan cheese on your pasta or garlic bread, you need to try vegetarian substitutes, which are actually pretty popular among vegans. Believe it or not, there are vegan options with a naturally cheese-like flavor.
Parmesan is used in numerous dishes and we can all agree that going without cheese isn't easy, however, you can be confident that it is totally possible to get your cheese as a vegan by finding delicious vegetarian substitutes such as the ones we have shared with you in this guide, continue reading as we will help you get your cheese fix without breaking your diet.
Vegetarian Substitute for Parmesan Cheese FAQs
Why is parmesan cheese not included in a vegetarian diet?
Parmesan is often used as a dressing or topping cheese. It is a hard cheese that tastes nutty and tangy and is commonly grated over pasta dishes. It is also used in many risotto and soup recipes. Traditionally, Parmesan contains animal rennet, which unfortunately makes it unsuitable for those on a vegetarian diet.
What is the vegetarian alternative to Parmesan?
Nutritional yeast. It has a nutty and savory flavor that makes it a good vegetarian substitute for Parmesan. Nutritional yeast is an excellent vegan alternative to Parmesan.
Is there a vegan cheese that tastes like Parmesan?
If you are looking for a vegan-friendly parmesan cheese substitute that is also a good source of protein, then the nutritional yeast by Bragg is one of the best options for you. The nutritional yeast used to make this product has a savory flavor that mimics the flavor of parmesan cheese.
How to use nutritional yeast as a vegan?
Nutritional yeast is commonly used by vegans and vegetarians as a replacement for cheese because it has a similar flavor profile. It dissolves and melts easily into many dishes such as pasta, soup, and risotto. Nutritional yeast flakes can also be sprinkled on top of other dishes like eggs, oatmeal, and popcorn. Many also use nutritional yeast instead of Parmesan to make pesto and have had good results. So while nutritional yeast doesn't taste exactly the same as Parmesan, it is similar enough that many use it as a replacement in various dishes.
What are good vegetarian substitutes for parmesan cheese?
Gran Kinara
Unlike traditional Parmesan, which uses animal rennet, Gran Kinara is a hard cheese that uses vegetable rennet. Its buttery and crumbly texture makes it, visually, very similar to Parmesan. Many also consider its taste extremely similar to Parmesan and Grana Padano as it also has a tangy and nutty flavor.
Italian-Style Hard Cheese
Many grocery stores and supermarkets sell versions of Italian-style hard cheese, which are usually vegetarian. It is important to check the label though, just to be sure that they are veggie-friendly. Parmesan-like cheeses that are safe for vegetarians should state that they use vegetarian, plant-based, or microbial rennet on the label.
Breadcrumbs
Instead of Parmesan, breadcrumbs can be used to thicken sauces. While breadcrumbs cannot replace the aesthetics or flavor of Parmesan, it is a veggie-friendly way of making thicker sauces while still adding a nutty and savory flavor to a dish.
How is vegan parmesan cheese made?
Many vegan varieties of parmesan cheese are made from nutritional yeast, which was talked about before. Some contain "nooch" but also raw cashews, spices, and roasted garlic for an extra zing of flavor. Vegan parmesan cheese can come in a variety of shapes and sizes, which makes it easy to sprinkle on pasta, pizzas, and vegetables. There are also many types of vegan block cheeses that look nearly identical to the real thing which is made out of coconut oil and food starch and can be grated over pasta or served on charcuterie boards like actual parmesan.
What to consider when buying vegan parmesan cheese?
Ingredients: Nutritional yeast, nuts, soy, and various seeds can all be used as a base ingredient for vegan parmesan cheese. Buy vegan parmesan that is made with the main ingredient of your choice. Additionally, check the ingredient list to find out if the vegan parmesan cheese contains anything you are allergic to.
Nutrition: Vegan parmesan can be very healthy, and full of vitamins and minerals. If the parmesan-like flavor is not the only thing you want to get from the vegan cheese, then checking its nutritional value is certainly something you should do. If you like using it as a finishing touch for most dishes you eat, it would be helpful to learn about the calories per serving.
Flavor: Read the reviews for each product to see if people who have bought the vegan cheese find it to taste similar to real parmesan. In addition to this, you can also consider options with added special flavors.
Vegetarian Substitute for Parmesan Cheese
Make your dishes tasty with the #1 best-selling vegan cheese on Amazon. NOOCH IT! is completely dairy-free, 100% vegan, and gives you real health benefits with a unique cheesy taste.
Enjoy with peace of mind knowing that NOOCH IT! is the only vegan grated cheese using organic and fair-trade cashews. We believe that you are what you eat and every purchase can help make the world a better place!
Delicious on pasta, pizza, steamed & roasted veggies, soup, salads, and popcorn, mix it with breadcrumbs and a cooking ingredient.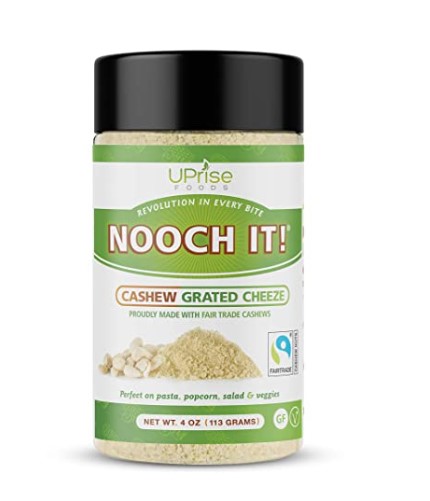 Pin
Features:
Parma! tastes good, with a nutty cheesy umami flavor. Season your dishes with this top seller in vegan parmesan. Parma! is plant-based, gluten-free, soy-free, GMO-free, Kosher certified a complete protein and a nutrient-dense superfood.
Cheesy umami flavor, grated-style topping with a potent vital nutrient boost. Parma! provides great taste and nutrition when added to most foods, especially popcorn, pasta, pizza, steamed & roasted veggies, potatoes, soup, salads, and much more.
Parma! contains a handful of raw ingredients, no fillers, no chemical preservatives, and nothing you can't pronounce. Parma! is made with raw nuts and seeds which provide many health benefits to boost your immune response, they provide powerful antioxidants and brain health supporting nutrients.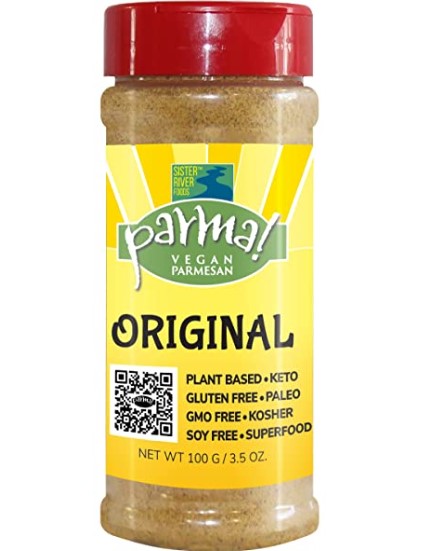 Pin
Features:
Keto
Gluten-Free
Plant-Based
Dairy-Free
Hemp Parmesan is a dairy-free alternative and keto-friendly, gluten-free, paleo, keto, and vegan cheese alternative, featuring savory and earthy plant-based cheese sprinkles full of hemp protein! Made from delicious hemp seeds, Hemp Parmesan is more than just delicious
Take your meals to the next level with this unique plant-based vegan parmesan cheese. Simply sprinkle Hemp Parmesan on your salads, pizzas, roast veggies, keto mac and cheese, pasta, avocado toast, and more, to make plant-based protein eating a breeze!
Hemp Parmesan will add more flavor and texture to your everyday vegan meals and salads. From quick bites to dinner parties, Hemp Parmesan adds that extra something special to your dishes, with a deliciously cheesy taste no one can resist.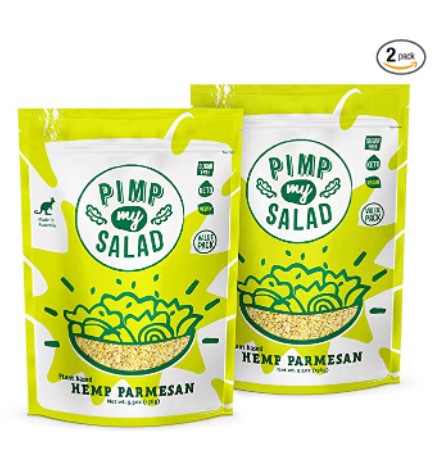 Pin
Features:
Dairy-Free
Vegan
Low Carb
Gopal's Rawmesan is a delectable replacement for Parmesan cheese made with organic seeds and nuts giving it a natural cheesy taste. It is a natural wholefoods experience made to keep the body fit and fortified.
Gopal's nutritional yeast organic seasoning can be used as a delicious topping for salads, soups, popcorn, pasta, pizza, veggies, sandwiches, and tortillas, or to anything you're craving to add a mildly spiced, cheesy flavor.
Rawmesan yeast seasoning comes in a plastic jar and is Vegan, Non-GMO, Dairy-Free, Soy-Free, and Gluten-Free made with organic seeds, nuts, herbs, and spices.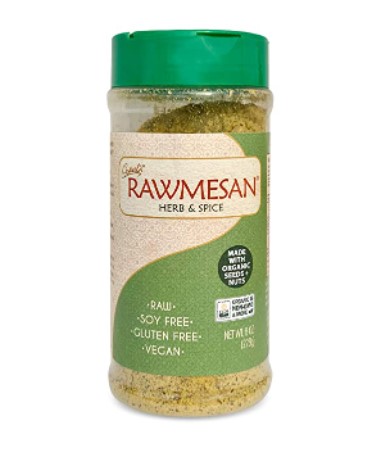 Pin
Features:
Vegan
Non-GMO
Dairy-Free
Soy-Free
The Bragg Nutritional Yeast Seasoning Flakes add a tasty, nutritional boost to dips, spreads, salads, vegetables, potatoes, and pasta. It comes equipped with a convenient shaker top.
These yeast flakes are a delicious parmesan cheese substitute. The nutritional flakes are a dairy-free Vegan seasoning that all ages are sure to love!
This nutritional seasoning offers "Better Life" benefits. It is packed with vitamins that support metabolism and improve overall skin, hair, and nail health. It also provides nutritional compounds known to boost your immunity.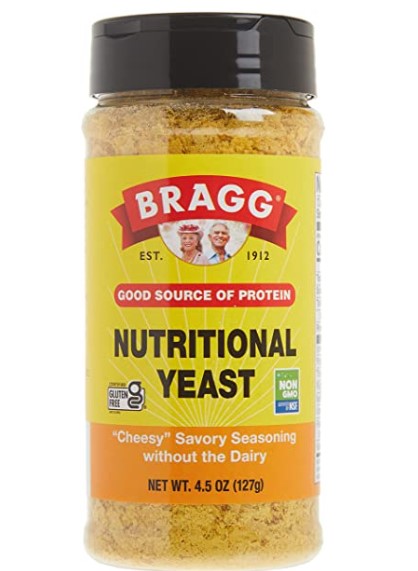 Pin
Features:
Vegan
Gluten-Free Cheese Flakes
Non-GMO Verified