Are you new to the vegan lifestyle and have no idea what vegetarians eat as a ground beef substitute? Then you are in the right place. When you decide to navigate the vegan way of living your eating choices may seem a bit limited however it is just a matter of adapting and doing your research. Today we'll be sharing with you different alternatives to vegetarian ground beef substitutes.
Many think that switching to a vegan diet is too hard because they mistakenly believe that the only way you can get your protein is by consuming meat, eggs, and dairy. You'll be surprised to learn that this is totally false. Actually, you'll be surprised to learn that one of the easiest meats to replace with a vegetarian version is beef.
Adopting a vegan diet is a lot about working with the same ingredients in different ways, and being very creative. There are actually numerous vegetables that can substitute meat, better yet these recipes taste amazing. What you need to be clear on is that it is totally possible to substitute ground beef with vegan recipes. If you are interested learn more about vegetarian ground beef substitutes below.
Vegetarian Ground Beef Substitute FAQs
What is vegetarian ground beef made of?
The ingredients are familiar and frugal: uncooked lentils, canned beets, onion, flaxseed meal, coconut flour, mushrooms, and seasonings (garlic powder, smoked paprika, salt, and pepper).
Is there vegetarian ground beef?
One of the easiest meats to replace with a vegetarian version is beef. There are tons of store-bought options available – like Impossible Burger, Beyond Meat, Trader Joe's, Aldi, and Gardein. You can also make your own homemade vegan ground beef substitute, which is what we are exploring today.
Can you substitute chickpeas for ground beef?
You totally can! A "Chickpea Meat" can be used as a filling for wraps and in any other substitution for ground meat in a recipe. The flavor is slightly sweet and smoky.
What is jackfruit?
Jackfruit is a tropical fruit native to Asia. While it's historically been commonly used in Asian cuisine, it's growing in popularity across the world as its versatility as a meat substitute becomes more widely known and appealing due to its pulled pork-like texture being familiar and desirable.
Which vegetarian food is equal to beef?
Lentils. Lentils have always been a stand-in for meat since the beginning of veganism. Lentils are hearty and can replace ground beef easily. Lentils come in a variety of colors such as green, red, brown, and black.
What should you know about cooking with vegetarian ground beef substitutes?
Cooking times with ground beef substitutes are usually shorter since ingredients don't have to reach the high internal temperature that ground beef does. In addition, ground beef substitutes don't release fat into your food, which may impact how a recipe thickens, as well as its moisture content.
What to look for when choosing a vegetarian ground beef substitute?
Saturated Fat: It may come as a surprise, but some meatless products still contain saturated fat in quantities comparable to meat products. Always check the nutrition facts panel so you can be fully aware of what you're consuming.
Protein: While some products, like tofu and other soy-based alternatives, are relatively rich in protein, others, like jackfruit, are naturally lower in protein. Just because it's lower in protein shouldn't deter you, though, as it could still offer plenty of other benefits.
Processing: Not all processed foods are bad, though, and there are still plenty of benefits to eating meat substitutes and alternatives. You may want to make yourself aware of how processed a product is by looking at the packaging, checking out how long the ingredient list is, and weighing the pros and cons.
Vegetarian Ground Beef Substitute
Lentils are already great for you, but wait until you try these crunchy and delicious bites of legumes that are dusted lightly with amazing seasonings. Great for all your snacking occasions, and perfect for vegetarians and vegans, and those with gluten sensitivity
Mighty Lil' Lentils, Falafel, are rich in dietary fiber, have 5g of plant-based protein per serving, are vegan, gluten-free, non-GMO, kosher, and are free of trans fat and cholesterol.
One of the amazing things about Mighty Lil Lentils is that this crunchy snack truly takes on the flavors of its seasoning. You won't feel like you are eating lentils, but you will get all of the benefits of legumes, which are rich in plant protein.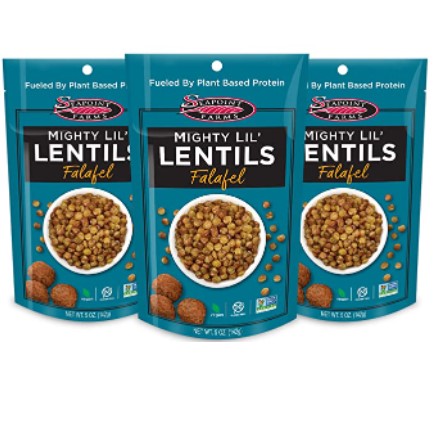 Pin
Features:
Kosher
Vegan
Gluten-Free
Non-GMO
Gardein Ultimate Beefless Ground is goodness from the ground up. Tasty, tender, and versatile, this vegan and gluten-free ground beef is a perfect substitute for tacos, sloppy joes, pasta dishes, and more.
Heat it up in the skillet or microwave, and enjoy in just 4 minutes! With 14 grams of vegetarian protein per serving, this Gardein beefless ground makes a delicious flexitarian option any day of the week.
Gardein offers a variety of meatless meats that are full of mouth-watering flavor. With multiple tasty options that are made with our garden-based chicken, pork, and beef substitute, Gardein makes being a vegan, vegetarian, or flexitarian, delicious.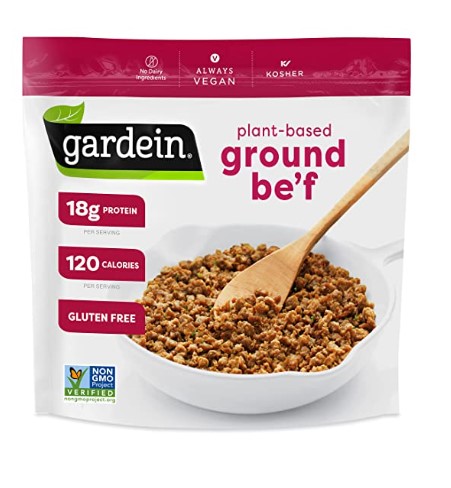 Pin
Features:
Vegan
Gluten-Free
Plant-Based
The Beyond Meatballs come pre-rolled and seasoned. Ready for family meal night and potlucks to game day and lunch. Beyond Beef Crumbles add a punch of protein to any meal and go from freezer to plate in 5 minutes or less.
Crispy on the outside, juicy on the inside. Beyond Chicken has 50% less saturated fat than a leading traditional breaded nugget.
20 grams of plant-based protein per serving from peas and brown rice. See nutrition panel for fat, sat fat, and sodium content. Made with simple, plant-based ingredients with no GMOs, soy, or gluten. All Beyond Meat products are vegan, kosher, and have no antibiotics or hormones.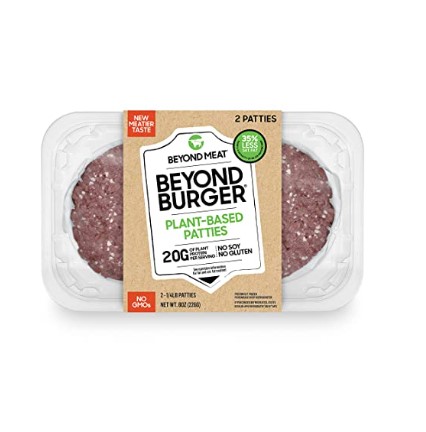 Pin
Features:
Vegetarian
Gluten-Free
Dairy-Free
Vegan
Sustainably made entirely from 100% Non-GMO peas. Completely soy-free, gluten-free, and cruelty-free, Noble Plate Vegan Meatless Protein Crumbles is one of the highest grade pea protein/textured vegetable proteins on the market today.
The neutral smell and taste will allow our protein crumbles to take on ANY flavor you desire while mimicking the texture and chewing properties of meat. Browns and behaves just like conventional ground meat.
Noble Plate's textured pea protein is a truly nutrient-dense meat alternative without compromise. A great way to sneak in vegetables to any picky eater.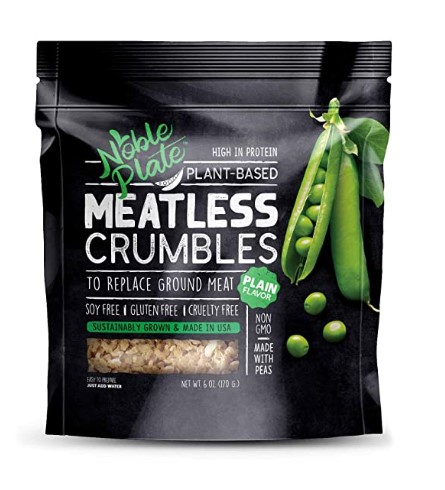 Pin
Features:
Just add veggies to create a delicious ground meat alternative in minutes. Elevates vegetables to the center of any meal. Simply chop, grate or pulse your vegetables, add to the mix and use as a ground meat replacement in your favorite recipes.
This vegan meat substitute contains 12 grams of plant-based protein, 4 grams of dietary fiber, and only 6 net carbs per serving. Combined with the bioavailable benefits of vegetables like antioxidants and phytonutrients provides a filling and satisfying meal that will nourish your body to its core and promote muscle growth and healthy digestion.
Works great with a wide variety of veggies, including broccoli, cauliflower, spinach, eggplant, mushrooms, kale, carrots, sweet potato, zucchini, and more.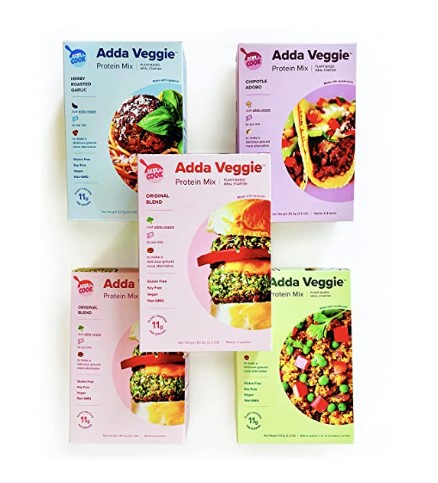 Pin
Features:
Gluten-Free
Soy-Free
High-Protein