When you are sensitive to soy, you are bound to look for soy-free alternative foods that remain delicious and simple, however, what do you do when it comes to a vegan soy sauce substitute? How do you strip the soy out of soy sauce? If you are on a vegan diet, or just cutting out soy, your gonna want to know more about these vegan soy sauce substitutes.
Soy sauce is a staple condiment in many kitchens and restaurants. Its use in Asian cuisine is prevalent, and you might find it in other recipes, such as those for homemade sauces, comfort foods, and soups. However, it has been shown that taking the leap to a vegan diet can have major health benefits for both your body and the world, and if you need to avoid it altogether for whatever reason, we've got you covered.
We can all agree that going without soy when you first become a vegan, isn't easy, especially if you have loved it for most of your life and are now joining the vegan lifestyle. What you need to be clear on is that it is totally possible to get your 'soy sauce' as a vegan by finding delicious vegan soy sauce substitutes such as the ones we have shared with you in this guide. So whether you are trying to control sodium, soy or gluten the following is for you.
Vegan Soy Sauce Substitute FAQs
Why do you need to stay away from soy sauce?
One reason why you may wish to stay away from soy sauce is its main ingredient, soy. Soy is a common allergen, especially among children, with 0.4 percent of them having a soy allergy. While many children outgrow their soy allergies, some don't.
There are other reasons one may want to avoid soy sauce. It contains gluten, which is a problem for people with celiac disease or gluten intolerance. It also often contains high levels of sodium.
What is a vegan substitute for soy sauce?
Coconut Secret coconut amino sauce. A popular soy-free, gluten-free, and vegan soy sauce alternative is coconut amino sauce, made by Coconut Secret.
What can I use to substitute soy sauce?
Like soy sauce, miso paste is a fermented ingredient made from soybeans, salt, and kōji (although there are many varieties made with other grains like barley or rice). It's salty and savory like soy sauce, too, and when blended with water, can be used as a substitute in a pinch.
Can balsamic vinegar substitute for soy sauce?
2 tablespoons of your favorite vinegar (Choose balsamic if you like the dark color, but you can also use red wine vinegar or cider vinegar. Balsamic is also sweeter than most other vinegar).
What are popular soy sauce substitutes?
Coconut Secret coconut aminos sauce
A popular soy-free, gluten-free, and vegan soy sauce alternative is coconut aminos sauce, made by Coconut Secret. This sauce comes from the sap of coconut trees and is made with Gran Molucas sea salt, cultivated in the Philippines.
It contains just 90 milligrams (mg) of sodium per serving, which is far less than soy sauce and some other alternatives. The sauce also contains 17 amino acids, giving it health benefits beyond those of soy sauce.
Red Boat fish sauce
This sauce is derived from wild-caught anchovies from the Phú Quốc island in the Gulf of Thailand.
The sauce doesn't contain soybean proteins and is gluten-free. It'll enhance the flavor of your food without you having to use soy sauce.
Maggi seasoning sauce
This is a more-than-a-century-old sauce from Europe with many fans. People use Maggi seasoning sauce to enhance the flavor of just about any food dish. However, Maggi can sometimes contain soy and does contain wheat, another common cause of food allergies. Be sure to check the list of ingredients if you're avoiding a particular product.
Lea & Perrins Worcestershire sauce
Umami-rich Worcestershire sauce may be associated with steaks or Bloody Marys, but you can also use it to season less traditional fare, from stir-fried vegetables to popcorn. It doesn't contain soy or gluten.
The original Lea & Perrins sauce has just 65 mg of sodium per serving, but a reduced-sodium version, with only 45 mg, is also available.
Ohsawa White Nama shoyu sauce
This Japanese sauce is made with sea salt, distilled sake, and lots of wheat, giving it a thicker texture than traditional soy sauce. It's billed as fruity-smelling and slightly sweet. Its golden honey color also sets it apart from traditional soy sauces.
Bragg Liquid Aminos
Another soy sauce alternative rich in amino acids is Bragg Liquid Aminos, which has a serious following among health food circles.
It does contain soy, so it isn't appropriate for people to avoid soy sauce because of an allergy. It also has 320 mg of sodium per teaspoon, according to its nutrition facts.
Can I substitute Worcestershire sauce for soy sauce?
Absolutely! You can use Worcestershire sauce in place of soy sauce. While their ingredients are not the same, both of them are fermented and enhanced with a savory flavor.
Vegan Soy Sauce Recipe
Ingredients:
¼ cup vegetable broth
¼ cup balsamic vinegar
1 ½ cups water
1 tablespoon molasses
¼ teaspoon ground ginger
¼ teaspoon garlic powder
Fresh ground pepper
Steps:
Bring all ingredients to a boil
Turn the heat to medium-high and simmer for approximately 20 minutes until the liquid is reduced to one cup
Store in the fridge in a glass jar
Shake well before using. Last 7-10 days in the fridge.
Vegan Soy Sauce Substitute
Coconut Secret Coconut Aminos Garlic Sauce is a new innovation in healthy Asian cuisine. Its created by infusing the Original Coconut Aminos sauce with garlic and other spices to create an exceptional seasoning and stir-fry sauce.
It is great brushed over fish, chicken, meat, and veggies, or in sautés and marinades. Sometimes simple is best. The delicious, garlic flavor of our garlic sauce is achieved with just five ingredients; organic coconut tree sap, organic garlic, sea salt, organic ginger, and organic cayenne pepper.
Coconut Secret Coconut Aminos Garlic Sauce is low in sodium and contains no MSG. Plus, it is USDA Certified Organic, gluten-free, kosher, and non-GMO verified.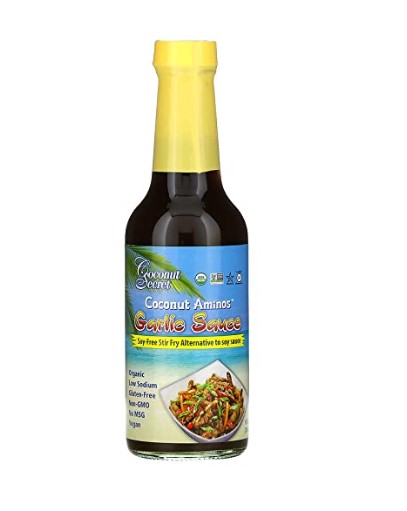 Pin
Features:
Non-GMO
Gluten-Free
Organic
The delicious and flavorful sauces are QAI certified to ensure ingredients are grown naturally without prohibited chemicals or genetic engineering.
We take pride in being able to offer you a great tasting and Salt-Free product to add to your kitchen. Our delectable marinades complement Chicken & Poultry, Fish & Seafood, Noodles, Rice, Stir Fry, Lamb, Veggies, Pork, Beef, and Potatoes and provide great flavor for many other foods!
The sauce is wheat-free and gluten-free. Mr. Spice sauces have won blue ribbons in the prestigious American Royal International Sauce Contest in Kansas City, MO.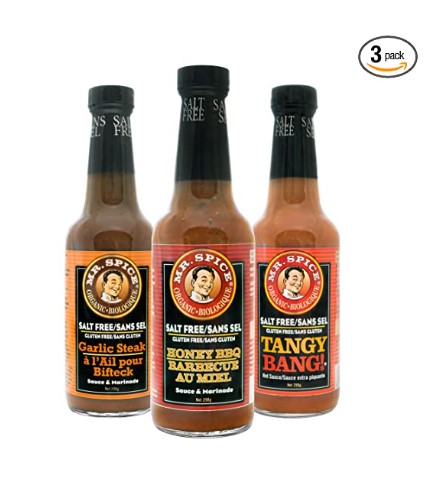 Pin
Features:
Gluten-Free
Vegan
Low Calorie
Salt-Free Sauce
VFISH is an entirely vegan fish-less plant-based 'Vegan Fish Sauce' – the best fish flavor without the fish. It's a perfect vegan gift. All the fishy flavor comes from two types of edible seaweed.
Use this delightful vegan food to make your favorite Thai or Asian cuisine, make a dip/dressing, or simply use it as a condiment or seasoning. The MSG Seasoning is a natural organic bi-product created from boiling seaweed.
The shiitake mushroom soy sauce gives it the umami vibes. Fish sauce Thai is a common ingredient in both Thai and Asian cuisine. This Vegan Fish Sauce is suitable for vegans, vegetarians, and non-vegan alike. No additives, colorants, or artificial flavorings.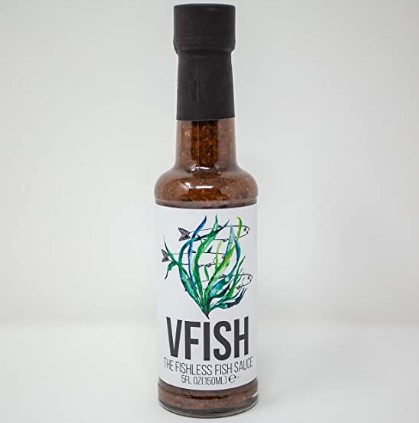 Pin
Features:
Vegetarian
Fish-Free
Certified Organic
Vegetarian
Plant-Based
Vegan
Make authentic Japanese yakisoba noodles at home with Otafuku. Our yakisoba sauce is the perfect combination of savory and sweet, packed with umami flavor.
Great for all diets, this yakisoba teriyaki sauce is gluten-free and vegan. It contains no artificial ingredients or high fructose corn syrup, only flavorful, natural ingredients.
Our yakisoba stir fry sauce is made with a mouth-watering blend of soy sauce, tomato, onion, carrot, and garlic with the sweet and tangy flavor of dates, peaches, and apples for that authentic umami taste.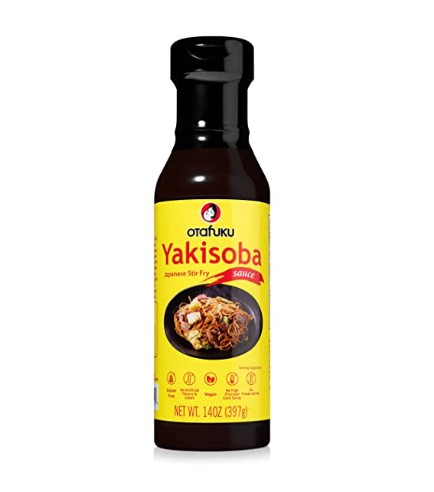 Pin
Features:
Rich with vital amino acids, and lower glycemic with almost half the sodium of soy sauce, our Organic Coco Aminos are a delicious essential seasoning sauce that is gluten-free and soy-free. Warmly umami with a spike of salt, cocoa aminos add pure savor to snacks and mains. Dash, dip or deepen your marinade and dig in.
Crafted with 2 ingredients; organic coconut flower blossom nectar and Balinese sea salt. Fee3e cZree of gluten, soy, dairy, canola oil, artificial preservatives, artificial flavors, trans fats, and with half the sodium of soy sauce.
A delicious sauce that is versatile and can be used as a marinade, glaze, dipping, finishing sauce, or on food on the grill.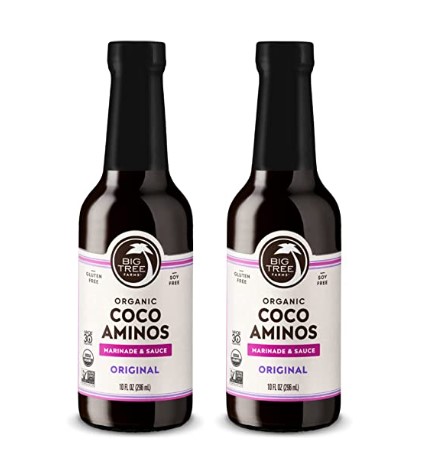 Pin
Features:
Soy Free
Vegan
Gluten-Free
Paleo
Certified Kosher
Bragg Liquid Aminos is better than Soy Sauce! There is no Gluten, GMOs, alcohol, or artificial coloring, and it is not fermented.
Liquid Aminos is a low-sodium alternative to traditional soy sauce. This Bragg seasoning tastes great in a stir-fry with fish, tofu, chicken, or beef. Experience the great taste without all the extra salt from soy sauce.
Bragg Liquid Aminos is a liquid protein concentrate made from Certified NON-GMO Soybeans and purified water. No table salt is added. Season your food with this soy sauce alternative. It is great in salads, dressings, soups, veggies, steamed greens, rice & beans, casseroles, potatoes, tempeh, gravies, marinades, and sauces.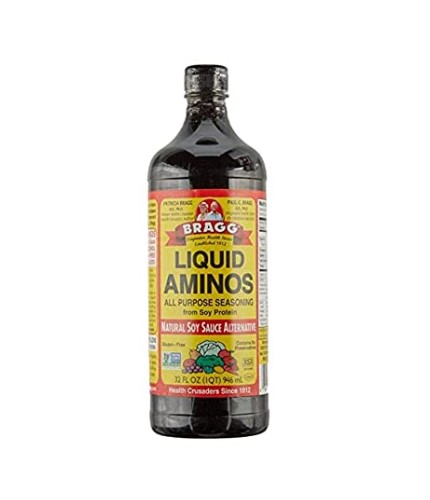 Pin
Features:
Non-GMO
Gluten-Free
Kosher