If you are a vegan convert and struggle to find protein sources suitable for the vegan lifestyle, we hear you. The struggle is real when you adopt the vegan way of living, especially when it comes to your eating choices as it can feel as if you are left with very few options. So today, we'll be sharing with you some of the best vegan protein substitute options available out there.
Many think that switching to a vegan diet is too hard because they wrongly believe that the only way you can get your protein is by consuming meat, eggs, and dairy. You'll be surprised to learn that this is totally false. Vegans hit their daily protein requirements without a problem because there are plenty of great vegan protein sources, all you need to do is a little research.
We can all agree that protein is key in our diet, it is a crucial macronutrient for numerous body functions and is a building block for every cell in your body. What you need to be clear on is that it is totally possible to get your protein as a vegan by finding delicious vegan protein substitutes such as the ones we have shared with you in this guide.
Vegan Protein Substitute FAQs
What does protein do for you?
Proteins are also responsible for a large portion of the work that is done in cells; they are necessary for the proper structure and function of tissues and organs, and also act to regulate them.
In short, protein fuels energy-building processes supports hormone creation, and builds antibodies, which our bodies use to fight illness and disease.
What is a protein substitute?
Alternative protein sources encompass everything from algae to re-engineered plant-based legumes and a variety of meat substitutes. Think of lab-grown meat, plant-based meat, single-cell proteins from yeast or algae, and edible insects.
Are beans plant-based protein?
The right plant-based foods can be excellent sources of protein and other nutrients, often with fewer calories than animal products. Some plant products, such as soybeans and quinoa, are complete proteins, which means that they contain all nine essential amino acids that humans need.
What would be a good protein substitute for a vegan?
Beans, legumes, nuts, and grains are all fantastic vegetarian protein sources, and even some vegetables, like mushrooms, are protein-rich foods.
Beans and legumes are rich sources of fiber and B vitamins. They are also a great replacement for meat as a source of vegetarian protein. Soy is another great option, one cup of boiled soybeans (172 g) contains around 29 grams of protein.
Is soy protein powder vegan?
Common vegan protein powders are pea, hemp, brown rice, and soy.
Why is protein powder not vegan?
As a byproduct of cheese production, whey is not vegan. Whey is obtained during cheese-making by straining off the liquid from curdled milk. Food processors typically dehydrate this liquid whey into powder.
What is a vegan substitute for whey protein?
One of the cheapest plant-based protein sources, rice protein is also pretty good when it comes to the protein ratio. Like pea protein, it's high in BCAAs and a great alternative to whey.
What are soy-based vegan protein substitutes?
Tofu is one of the most widely-known protein substitutes for vegetarians, made from soy in a process similar to cheesemaking. It's a whole protein source, as it contains all of our bodies' essential amino acids.
Tempeh is made from lightly fermented soybeans that are cooked and pressed. Tempeh has a chewy texture compared to tofu, with a slightly earthy, nutty flavor.
Edamame is vibrant green, young soybean pods, usually boiled or steamed, and regularly frequent the dinner table in Asian cultures.
What legumes are vegan protein substitutes?
Beans: Kidney, black, navy, and cannellini beans all have 8 grams of protein in ½ cup serving. They also contain high levels of iron, folate, and other essential minerals.
Lentils: Lentils are even higher in protein than beans, at nearly 9 grams per ½ cup. They're slightly smoother than most beans and used in spicy Indian dishes, like dahl, or hearty soups.
Chickpeas: Chickpeas offer the same benefits as other legumes – high protein, high fiber, and high mineral content. You'll see chickpeas used a lot in Mediterranean and Middle Eastern cooking.
What are wheat-based vegan protein substitutes?
Grains: Amaranth and buckwheat are just two ancient grains, referred to as pseudocereals, that don't grow from grasses as other grains do.
Ezekiel Bread: Sprouted whole grains and good-for-you legumes are used to make Ezekiel bread. Lentils, barley, spelt, and millet is other healthy ingredients. Two slices can contain 8 grams of protein.
Seitan: Seitan, made from wheat gluten, looks and feels nearly like more than other vegetable protein alternatives.
Are there additional vegan protein substitutes?
Mushrooms and other veggies: Most vegetables contain a bit of protein, but mushrooms have almost twice the protein amount as other vegetables. They also have a meaty texture and earthy taste that lends well to turning them into burgers or using them to replace meat in your favorite recipes.
Nuts: Nuts are great meat substitutes for protein – their high, heart-healthy fat content makes them a satisfying snack compared to some of the lighter vegan proteins.
Seeds: Seeds are similar to nuts in that they're high protein vegan foods that are also high in unsaturated fats, which is excellent for brain health.
Quinoa: Quinoa is a fantastic way to up your content from plant protein sources while feeling extremely satisfied by this puffed, hearty food. Use it wherever you would use pasta, rice, or other side dishes.
Vegan protein substitutes easy ideas:
If you are cooking a sauce where you would typically add ground beef, use textured vegetable/soy protein instead
Replace your regular toast serving with Ezekiel bread and top with a protein-rich nut butter
Substitute over-processed white flour with spelt flour
Switch out tofu for chicken in your top poultry recipe
Another excellent trade for eggs is a chia egg
Seitan can be substituted for pork in your Asian recipes
Switch regular pasta for a lentil-based pasta
Vegan Protein Substitutes
Hemp is considered the most nutritionally complete food source in the world. Think of it as nature's multivitamin. Hemp Hearts are an excellent source of Iron, Niacin, Thiamine, Phosphorus, Magnesium, Manganese, Copper, and Zinc.
Hemp hearts have all 20 amino acids and each of the nine essential amino acids. These Super Seeds are the only vegan food with the same omega 3:6 ratio as fish oil. Hemp has 6.2x the amount of Omegas than raw tuna.
These are ready to eat and are USDA certified organic, Non-GMO, Keto Friendly, Paleo, Gluten-Free, Vegan, Whole 30 approved, and Kosher. The must-have addition to every meal. Top on your salads, blend in your smoothies or mix into anything you can eat with a spoon, fork, or spork.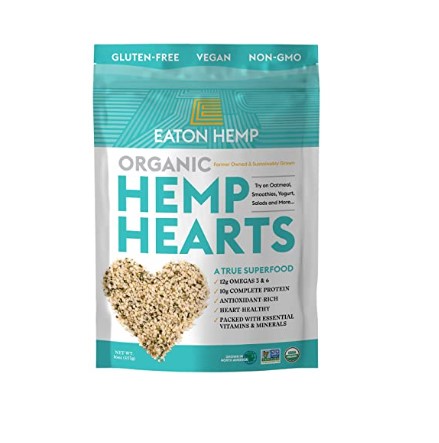 Pin
Features:
Vegan
Gluten-Free
Non-GMO
Tofu is great for stir fry and sauteing, it is low fat and cholesterol-free. Contains no preservatives and no irradiation
Non-GMO and it is also Project Verified and Kosher.
Ingredients include Soymilk (Filtered Water and Soybeans), Soy Protein Isolate, Glucono-Delta-Lactone, and Calcium Chloride. Glucono-Delta-Lactone is a non-dairy, gluten-free coagulant derived from non-GMO corn starch.
Place tofu in a food processor and blend. Add evaporated cane sugar and cornstarch and blend. Add the soy margarine, lemon juice, lemon extract, and vanilla. Process until smooth. Makes a great lemon pudding and pie filling.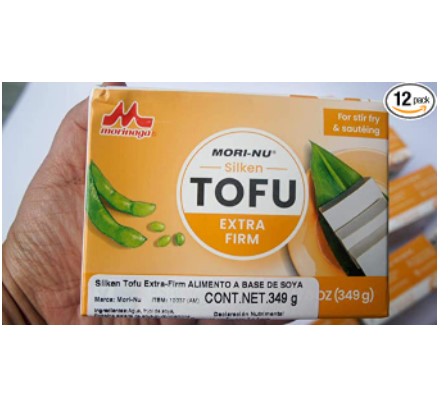 Pin
Features:
Gluten-Free
Plant-Based Protein
No Preservatives
Kate Natural's Gluten Wheat is a low-carb flour that's soy-free, low in fat, high in protein, and keto-friendly. High gluten flour is a dough improver and is a keto flour. Vital gluten is considered a must for keto baking.
Add Vital Wheat Gluten to your dough to make a great low-carb, healthy bread and seitan. It also acts as gluten powder for baking bread and a bread improver for baking. Vital wheat flour is similar to spelt flour and oat flour.
You can use vital wheat gluten for a bread machine and vital wheat gluten for bread making. Wheat flour has low carbs like lupin flour and carbalose flour so you can bake low-carb bread.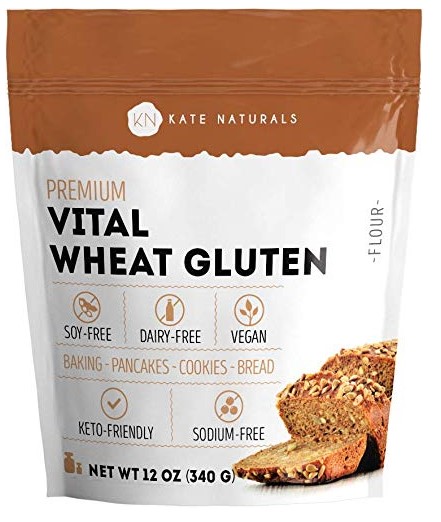 Pin
Features:
Vegan
Soy-Free
Dairy-Free
From soups to salads to chilies, there's no shortage of ways to use classic Yupik Organic Brown lentils! Brown lentils are dried, dark, whole legumes. Like pasta, brown lentils can be cooked in a pot of boiling, salted water.
Brown lentils cook for approximately 30 minutes or until tender. Earthy and mild in flavor, brown lentils add flavor to salads, stews, and soups.
These lentils are a good source of iron, protein, and fiber. A wholesome dried legume that can be used in soups, stews, casseroles, and salads. These are also non-GMO, sulfite-free, Vegetarian, Vegan, and all-natural.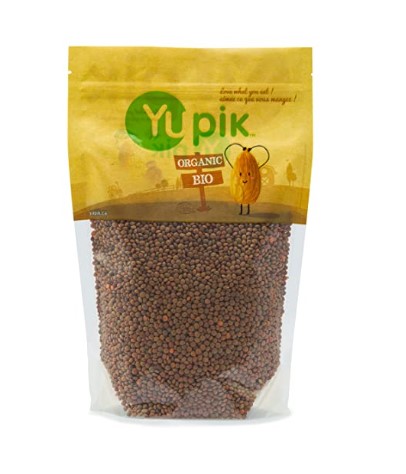 Pin
Features:
Vegan
Gluten-Free
Organic
Create delicious, protein-rich tempeh without any soy; make using mung beans, black beans, garbanzo beans, or any other type of bean of choice.
Tempeh is a great source of protein made completely from plants. This traditional Indonesian dish has become a staple for vegetarian diets around the world.
Switch out any meat in a recipe for this protein-dense dish that can be sliced, marinated, or seasoned to hit your desired flavor profile.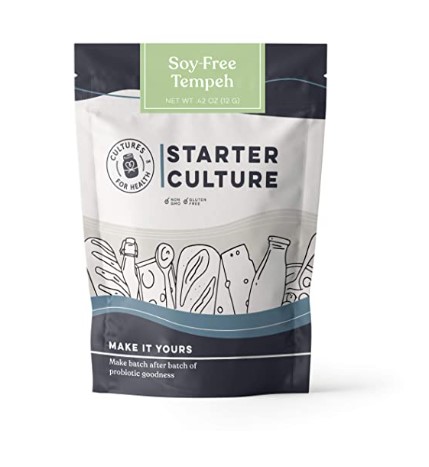 Pin
Features:
Vegan
No Maintenance
Non-GMO
Gluten-Free
This Organic Young Jackfruit is an excellent vegan, soy & gluten-free meatless alternative to use in numerous recipes. A mild flavor makes it a great base for sauces & seasonings!
Young jackfruit's fleshy interior has a meaty texture similar to chicken. As it cooks, it flakes & shreds making it ideal for vegan pulled pork and chicken recipes.
This is part of a line of vegetarian products that are ethically sourced & suitable for many special diets including vegan, gluten-free, paleo, keto, kosher, organic & low sodium. The company is a proud participant in the Non-GMO Project and supports organic & sustainable farming that avoids GMOs & pesticides.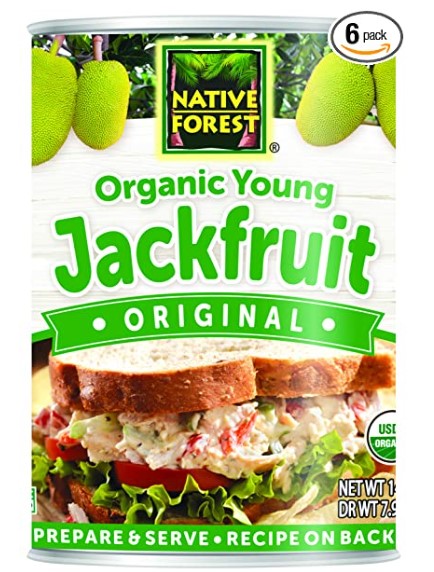 Pin
Features:
Vegan Meatless Alternative
Non-GMO
Organic
Nutritional Yeast Flakes are a deactivated yeast from the Saccharomyces cerevisiae strain which can be used as an ingredient or condiment. This plant-based protein source has significant amounts of energy-providing B vitamins.
Nutritional Yeast is known to have a tangy, cheesy, creamy flavor and texture, making it perfect for sprinkling on popcorn, salads, or for blending into hot foods.
Being a complete protein with 9 essential amino acids, Anthony's Large Nutritional Yeast Flakes can be a great cheese substitute for Vegans.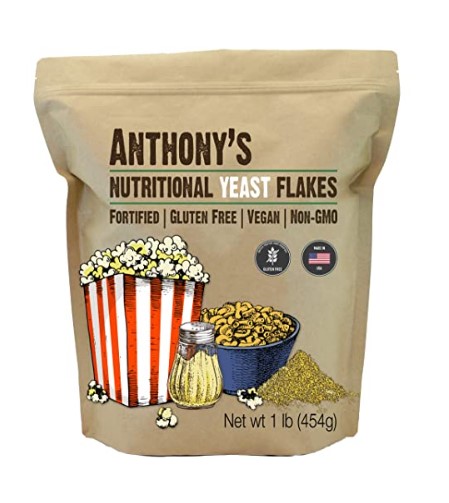 Pin
Features:
Vegan
Gluten-Free
Non-GMO