Most people think taking the leap to a vegan lifestyle is just too hard because they wrongly believe food options are pretty limited when in reality there's a vegan replacement for everything, yes even for meat; and brands have made it a lot easier. If you are one of those people then this is for you as we'll be sharing with you vegan meat substitute brands that you should know about and which are a must for every vegan.
Protein from meat is an integral part of a balanced diet, but that doesn't mean, meat is the only way to obtain your dose of protein. Even though meat is clearly not vegan, there is actually a plant-based option so vegans actually have numerous sources of protein to keep a healthy and well-rounded diet. So contrary to what you may think living a plant-based lifestyle has never been easier than it is nowadays, and the best part, these vegetarian substitutes are simply delish.
As you can imagine, there are many ways to substitute meat with real, whole-food ingredients but sometimes the best meat replacement is from the store, where you can choose from fantastic vegan meat substitute brands. Keep in mind science has shown that a vegan diet can have major health benefits for both your body and the world; so you have nothing to lose and everything to gain. Check out below our top picks for vegan meat substitute brands.
Vegan Meat Substitute Brands FAQs
Why avoid meat?
Regularly occurring food scandals such as swine flu and rotten meat, as well as the increasing occurrence of multidrug-resistant pathogens, exacerbated by the high use of antibiotics, are just a few examples of the health risks that animal-based foods can pose.
Meat consumption is also a risk factor for diseases in the cardiovascular system. The more red and processed meat that was eaten, the greater the risk became.
What is a good vegan meat substitute?
Tofu: Tofu is the classic meat alternative and has been one of the basic sources of nutrition in Asia for centuries. It is appreciated in particular as a low-calorie source of protein. Tofu is also versatile as it easily absorbs aromas from spices and marinades. Today, tofu is available in countless variations, including aromatic, smoked versions, and marinated varieties flavored with various herbs and spices.
Soy protein: Soy chunks and mince are very inexpensive ingredients that are easy to prepare. They consist of dehydrated soy which, once mixed with water, can be used as a meat substitute in almost any dish. Soy is most commonly sold as mince, cutlets, or balls.
Tempeh: Tempeh is a traditional Indonesian food, made from fermented soybeans. Similar to the production of cheese, tempeh takes advantage of the effects of special bacterial cultures that break down the protein in the beans and make them particularly accessible to the human digestive system.
Seitan/wheat protein: Seitan is the protein contained in wheat. Easy to season and prepare, and with a consistency similar to meat, seitan is a popular meat substitute that has been a staple ingredient in Asian cuisine for millennia. It is made by washing wheat flour dough with water until all the starch granules have been removed, leaving only the wheat gluten.
Lupin protein: Like soybeans, lupins are protein-rich legumes. Considered one of the meat alternatives of the future, the cultivation of lupins is particularly sustainable and easily possible in Europe, which has an ideal climate for it.
Green spelt: Spelt is a species of wheat and one of the oldest cultivated grains. Green spelt is the name for spelt grain that is harvested while semi-ripe. Once harvested, it is roasted and dried to improve its shelf life. Bruised grain and semolina made from green spelt are a good basis for vegetarian/vegan patties, cutlets, and meat (free) balls.
Black beans: Burgers made from black beans are a popular, healthy, and delicious alternative to ready-made products and fast food restaurant fare. Black beans are rich in protein and fiber.
Chickpeas: Chickpeas should be an integral part of any diet due to their beneficial nutrient composition. They contain more protein than many types of meat, provide a substantial portion of iron, and have a calcium content similar to that of milk.
Pea protein: The humble pea is one of a number of other plant-based sources of protein that have been carving a niche for themselves lately as meat alternatives.
Oat flakes: Oat flakes can be used to prepare delicious cutlets. These consist of fried oat dough combined with vegetable broth, a little fat, grated carrots or zucchini, and usually other vegetable proteins. Oat flakes are an ideal source of zinc and iron and are available at an affordable price from any supermarket or discounter.
What are known vegan meat substitute brands?
Before the Butcher
This meatless meat brand offers its UNCUT Plant-Based Burgers in several grocery store chains in Southern California. The savory soy-based burgers cook up great on the grill. Try them in four different varieties: Burger, Savory Chicken Burger, Roasted Turkey Burger, and Breakfast Sausage Patty.
Beyond Meat
This innovative company is single-handedly changing the vegan meat game. What's its secret? Beyond Meat's mouthwatering products are made with non-GMO, gluten-free pea protein.
MorningStar Farms
Following PETA's talks with Kellogg's about offering more vegan products through its MorningStar Farms and Gardenburger brands, the company announced three reformulations of products from vegetarian to vegan.
Gardein
Its website also features fun recipes and a page of gluten-free products. Must-try product: Classic Meatless Meatballs.
Tofurky
Tofurky quickly became famous for its holiday roasts, but it's known for many other delectable vegan products as well, including deli slices, veggie dogs, tempeh bacon, vegan pizza, and more. Must-try product: chorizo-style ground "beef".
Yves Veggie Cuisine
Yves has a wide range of vegan products, including Vegan Grain Strips with BBQ Sauce, Original Meatless Jumbo Hot Dogs, and Meatless Canadian Bacon. It continues to provide cholesterol-free vegan meat options to a growing demographic of compassionate consumers.
Field Roast
Made with grain meat, Field Roast products include vegan sausages, deli slices, roasts, burgers, and even meatloaf. Its famous vegan cheese Chao Slices are a great complement to what we consider a must-try product: the Field Burger.
Lightlife
Lightlife offers a variety of vegan meat options, which are easy to identify, thanks to a prominent "certified vegan" logo on the package.
What is the healthiest meat substitute brand?
The top pick among experts is Hillary's Eat Well World's Best Veggie Burger because it's tasty, nutritious, and has no additives. If you're looking for a tofu option, you can try the Nasoya Organic Sprouted Super Firm Tofu 16 oz. Pack. It's also important to look at the protein being used in the meat alternative.
Is Gardein's vegan burger better than beyond meat's?
Burgers are smaller than the Beyond and have much fewer cells and fat. The Gardein has more of a 'flavor' to it than the Beyond. All things considered, the Gardein just wins for a good-tasting standard burger at a fair price.
Vegan Meat Substitute Brands
This certified organic veggie burger is the original, and still our best-selling burger. Whole grain millet, sweet potato, and leafy greens create awesomeness that lives up to its name.
Made with clean, whole food ingredients that are accessible and convenient for everyone (whole veggies like leafy greens, carrots as well as root vegetables and tubers like beets and sweet potatoes).
Exclude the top-12 common food allergens that impact your family. Free from: Gluten (wheat), egg, soy, dairy, corn, peanut, tree nuts, coconut, sesame, mustard, sulfites, and shellfish.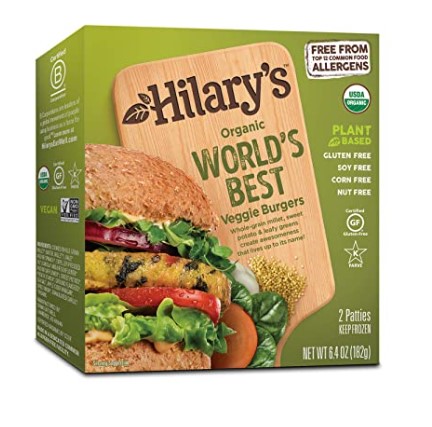 Pin
Features:
Dairy Free
Gluten Free
Nut Free
Wheat Free
Egg Free
Soy Free
Nasoya Organic Super Firm Tofu is considered among the most convenient and protein-packed tofu and provides a great source of plant-based protein for you and your family to enjoy.
This organic super firm tofu comes in slabs that are easy to cut into bite-size pieces, making it great for crispy tofu bites, stir-fries, kebabs, and other dishes where you want a firmer texture. Cholesterol-free with no added preservatives, this fresh tofu is made with simple ingredients like water and organic, non-GMO whole soybeans.
One block of gluten-free, vegan tofu contains five servings, perfect for multiple people or saving for another day. Nasoya organic super firm Tofu comes in an easy-peel package to preserve its freshness with no pressing required.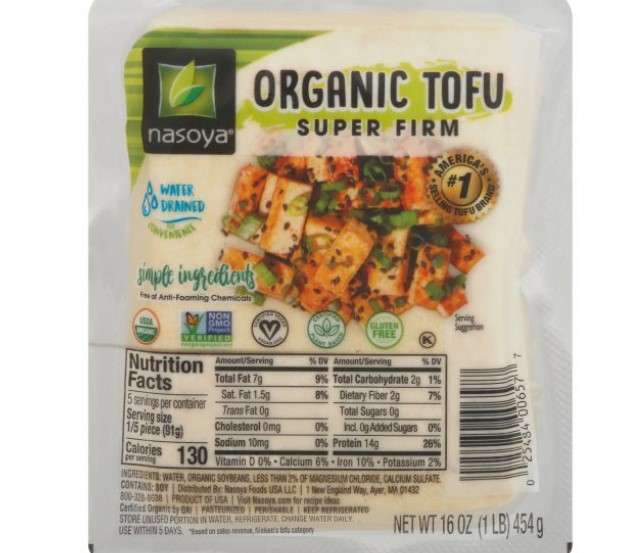 Pin
Features:
Non-GMO
Cholesterol-Free
Organic
A burger with taste so rich and texture so meaty, you won't believe it's made from plants. Made from a combination of pea, rice, and mung bean protein, Beyond Burgers are a complete protein with 20 grams per serving.
Each Beyond Meat patty has 35% less saturated fat than 4 oz (raw) 80/20 ground beef and marbling that tenderizes when cooking.
Beyond Burgers are made from simple, plant-based ingredients with no GMOs, soy, or gluten. All Beyond Meat products are vegan, kosher, and have no antibiotics or hormones.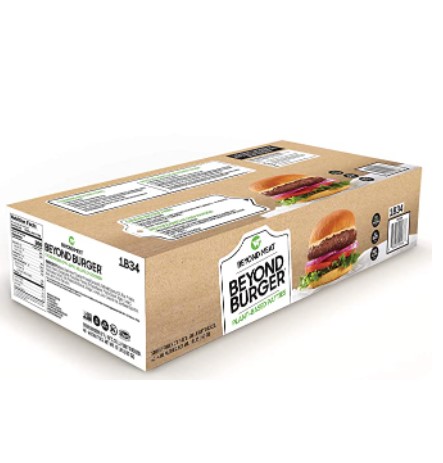 Pin
Features:
Plant-Based
Gluten-Free
Soy-Free
This is a delicious all-vegan sausage. The great taste of sun-dried tomatoes and basil gives this sausage a wonderful, slightly sweet taste.
Ingredients include organic tofu (Water, Organic Soybeans, Magnesium Chloride, Calcium Chloride), Vital Wheat Gluten, Expeller-pressed Non-GMO Canola Oil, Water, Shoyu Soy Sauce (Water, Non-GMO Soybeans, Wheat, Salt, Culture), Organic Soy Flour, Sun-Dried Tomatoes, Basil, Granulated Garlic, Sea Salt, Spices.
The number one selling item in veggie sausage, this classic Italian sausage is as versatile as your imagination.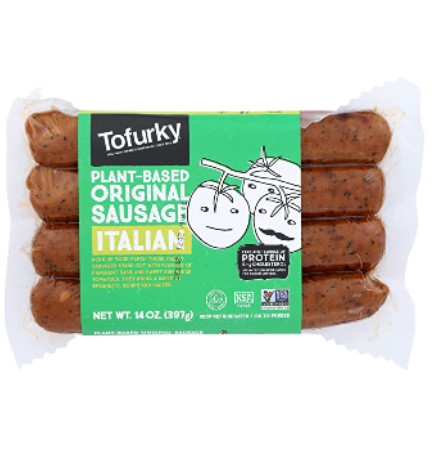 Pin
Features:
Meet plant-based tuna is a protein-rich, nutrient-dense entrée packed with beneficial omegas.
To create the unmistakable light, flaky texture of fine seafood, ingredients include a proprietary six-legume blend (peas, chickpeas, lentils, soy, fave beans, and navy beans) that's brimming with added herbs, garlic, sweet bell pepper, a light kick of spice and hint of citrus for a plant-based tuna with a touch of sunny Southern Europe.
Transport friends and family to the Mediterranean with this unique plant-based blend, perfect on a party platter, inside pita pockets, or splashed on your favorite salad.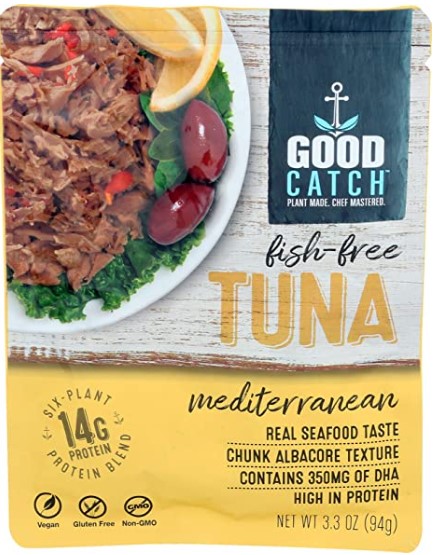 Pin
Features:
GMO-Free
Gluten-Free
Vegan
Gardein Ultimate Beefless Ground is goodness from the ground up. Tasty, tender, and versatile, this vegan and gluten-free ground beef is a perfect substitute for tacos, sloppy joes, pasta dishes, and more.
Heat it up in the skillet or microwave, and enjoy in just 4 minutes! With 14 grams of vegetarian protein per serving, this Gardein beefless ground makes a delicious flexitarian option any day of the week.
Gardein offers a variety of meatless meats that are full of mouth-watering flavor. In 4 minutes, this Gardein beefless ground makes a delicious dish to enjoy whenever you want your favorite foods meat free.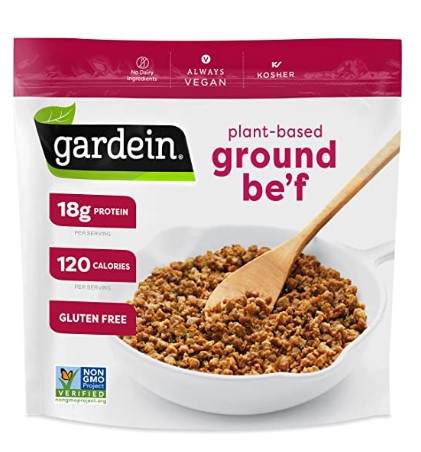 Pin
Features: