Is the search for a vegan buttermilk substitute? Search no more. If you are a vegan or perhaps are on a low-fat diet, or just cutting out dairy, your gonna want to know more about these vegan buttermilk substitutes. Many think that switching to a vegan diet is too hard, however living a plant-based lifestyle has never been easier than it is today. Contrary to what you may think there's a vegan replacement for everything, from milk to meat. With that in mind today we'll talk about vegan buttermilk substitutes.
It is widely known that taking the leap to a vegan diet can have major health benefits for both your body and the planet. From reducing cholesterol to cleaning up your carbon footprint, there are plenty of reasons to choose a plant-based diet. If buttermilk alternatives had been stopping you from switching to a healthier lifestyle you'll be glad to know there's no reason to do so.
With a little research, you'll soon realize there are actually many vegan buttermilk substitutes that make the life of vegans a lot healthier and easier. We can all agree that going without buttermilk isn't easy, but going vegan doesn't mean giving up on flavorful and tasty foods. What you need to be clear on is that it is totally possible to get your buttermilk as a vegan by finding delicious vegan buttermilk substitutes such as the ones we have shared with you in this guide.
Vegan Buttermilk Substitute FAQs
What is buttermilk?
Buttermilk is made with fresh, pasteurized milk that's been inoculated with cultures (i.e., lactic acid bacteria) to transform it into a rich ingredient that's thicker than regular milk but not quite as heavy as cream and with a distinctive tangy taste.
What do you use buttermilk for?
The dairy staple is frequently called for in sweet and savory recipes like biscuits, fried chicken, dips, dressings, cakes, and quick bread, but it's not always just for flavor. In baked goods, the acidity lends leavening power when it reacts with baking soda, as well as breaks down gluten formation for a more tender final product.
What do vegans use instead of buttermilk?
Soy milk is a preferred choice to make a vegan substitute for buttermilk as its consistency is similar to cow's milk, but any unsweetened plant milk will do, such as almond milk, coconut milk, or oat milk.
Can you curdle almond milk?
The answer is yes. Almond milk does curdle. A pesky trait of almond milk is that, yes, it does curdle. This is primarily due to the acidity and high heat.
Is there a non-dairy substitute for buttermilk?
Yes. Other non-dairy milk like coconut, oat, cashew, soy, and even rice milk can be used in making a buttermilk substitute. However, most people recommend almond milk as the best non-dairy milk for making vegan buttermilk.
Can I substitute buttermilk with almond milk?
(Some brands of almond milk have added sugar or other sweeteners which can affect the flavor of your recipe.) For buttermilk, which is tangier than milk, add a little squeeze of lemon or a splash of vinegar. The almond milk won't be as thick, but the acid helps replicate the flavor of buttermilk.
What are vegan buttermilk substitute options?
Lemon juice. Add one to two tablespoons of lemon juice to a plant-based milk alternative (such as soy milk or almond milk) to measure one cup. Stir the mixture, let it stand for five to ten minutes or until thickened (aka curdled) and you're good to go.
Vinegar. This method works the same as above, except you swap the lemon juice for one tablespoon of vinegar, both white vinegar, and apple cider vinegar will work.
Cream of tartar. For every cup of dairy-free milk, use one and a half teaspoons of cream of tartar, but add it to the recipe's dry ingredients to avoid clumping.
Vegan sour cream. You can easily achieve a dairy-free, buttermilk-like ingredient using a commercially available vegan sour cream. All you have to do is whisk some dairy-free milk or water into the product until you get the right consistency. The exact amount will depend on the thickness of the sour cream you start with, but a roughly one-quarter cup of liquid with three-quarter cups of vegan sour cream should do the trick.
Vegan yogurt. Use the same method as above but swap vegan sour cream for plain and unsweetened vegan yogurt (like soy, almond, or coconut).
Tofu. For every one cup of buttermilk, purée one-quarter cup of silken tofu with a pinch of salt, one tablespoon of vinegar or lemon juice, and half a cup of water in a blender. Add water tablespoon by tablespoon (up to three total) and blend to get the proper consistency, then let the mixture sit for about ten minutes before using it.
Homemade nut cream. If you're not a fan of processed plant-based dairy alternatives (and you have a little extra time), you can make a vegan buttermilk substitute that's nut-based and preservative-free. Start by soaking raw, unsalted nuts (like cashews or macadamia nuts) in water, then drain and purée them in a blender, adding one cup of water and two teaspoons of lemon juice or vinegar for every cup of nuts.
Kefir. No tinkering is needed for this one, substitute equal parts kefir for buttermilk in any recipe, just make sure it's unsweetened, unflavored kefir. (Use any additional leftover kefir to make this lovely beet soup.)
Can I use regular non-dairy milk in a recipe instead of vegan buttermilk?
It's not a good idea to use regular non-dairy milk in a recipe that calls for vegan buttermilk. Vegan buttermilk is acidic so it reacts with the leavening agent (usually baking soda) in the recipe. So if you use regular non-dairy milk in a recipe calling for vegan buttermilk then your baked goods might not rise, or they may be dense. It could also make your baked goods not as moist or rich as they were intended to be.
How long does vegan buttermilk last?
You can store homemade vegan buttermilk in the fridge for up to a week. However, it's so quick and easy to make it that it's best to just make it up as you need it.
Can you freeze vegan buttermilk?
It is freezer friendly. It's most ideal to pour it into ice cube trays and let it freeze that way. When you're ready to use it in baking, you can pop the cubes into a measuring jug and let them thaw in the fridge.
Easy Vegan Buttermilk Recipe
Ingredients:
Lemon juice or distilled white vinegar or apple cider vinegar all work great.
Soy milk is the best option to use for creamy buttermilk that really works wonderfully in recipes. Almond milk also works but the consistency is much thinner.
Coconut milk tends not to work at all as it doesn't curdle. Not all the non-dairy milks will curdle when lemon juice is added. So using soy milk for this is the safest bet and the second choice would be almond milk.
Steps:
Add lemon juice to a measuring jug.
Add soy milk up to the 1 cup line.
Leave it for a minute to curdle.
Give it a stir and it's ready for use!
Vegan Buttermilk Substitute
Soy milk is obtained from soybeans or soya beans. Soy milk is a plant-based product that contains no lactose. It is a great milk alternative for vegans and lactose intolerants.
Despite being plant-based milk, it is loaded with nutrients and vitamins. Soy milk has numerous health benefits that include stronger bones, better heart health, works as antidepressants, etc.
Being rich in fiber and low in calories, soy milk is a great substitute for those who are on a weight-loss diet journey. It is also loaded with a fat-burning vitamin that enhances the production of energy & metabolism.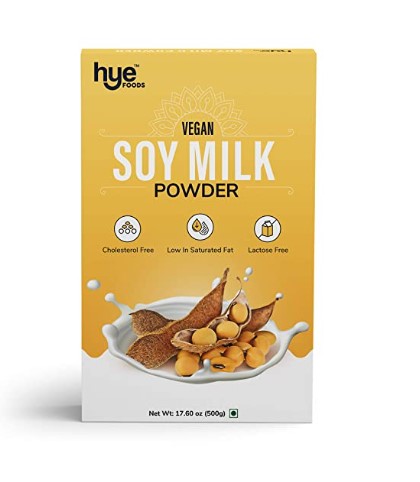 Pin
Features:
Lactose-Free
100% Pure & Natural
Low in Saturated Fat
Orgain Organic Unsweetened Vanilla Protein Almond Milk contains 10 times the protein of other leading almond milks.
With 10g of organic protein and plant-based calcium and vitamin D, this is perfect to add to smoothies, on cereal, or as a quick protein boost.
It is USDA organic, vegan, gluten-free, soy-free, no sugar added, kosher, and non-GMO. No artificial colors, flavors, or preservatives. Dairy-free and lactose-free alternative to milk. Perfect dairy substitute to use for baking and cooking. Add to coffee, cereal, oatmeal, or your favorite smoothie recipe.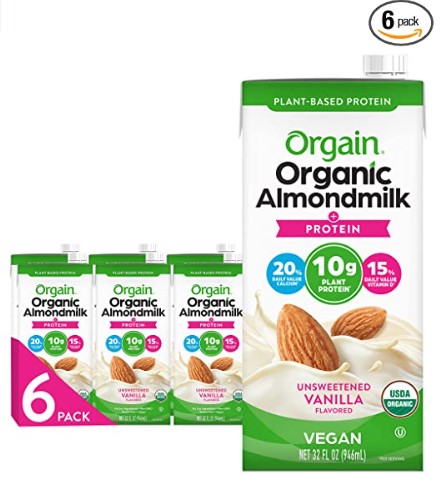 Pin
Features:
Kosher Certified
Gluten-Free
Ivan's Valley 1-ingredient powdered milk, vegan dry creamer is made of premium quality oat flakes that have been minimally treated thermally. This non-dairy milk is free of artificial preservatives, additives, flavors, and sugar.
This healthy coffee creamer, dairy-free milk is a delicious alternative to whole milk powder. Perfect dairy-free creamer for anyone with lactose intolerance.
The 100% soluble, non-bitter oatmeal powder in our vegan dry creamer will make a wonderful addition to your coffee, smoothie, or breakfast cereal. This oat milk unsweetened non-dairy coffee creamer is both delectable and healthy, as plant-based milk may have a positive impact on weight loss, skin cleansing, digestion, and gut health without any side effects.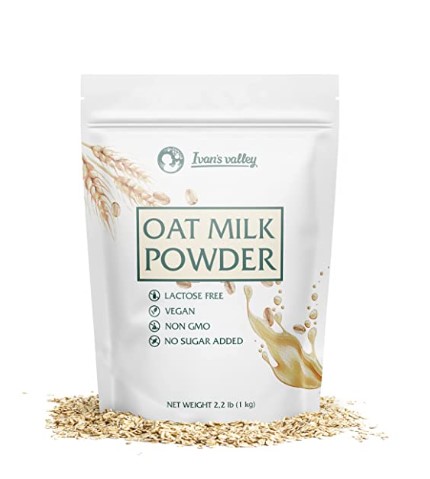 Pin
Features:
Lactose-Free
No Preservatives
No Additives
Forager Project rich, creamy, and totally devourable Cashewmilk Yogurts will forever change how you think about dairy-free yogurts. Traditionally cultured in small batches, they are also full of plant-based, probiotic goodness.
A creamy and delicious vegan yogurt alternative made from cashews. It is packed with probiotics and traditionally cultured with 5 live active cultures. No added sugar and only 1g of total sugar per serving. Also non dairy, gluten-free, soy-free, lactose-free, kosher, non-GMO, and no artificial flavors or sweeteners.
Staple plant-based yogurt is great by itself, with granola or in smoothies, baking, soups, and sauces.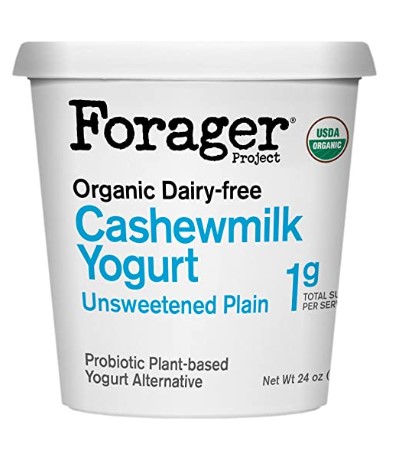 Pin
Features:
Organic
Plant-Based
Plain
Lactose-Free
The cashew nut makes delicious milk that is dairy-free and perfect for a vegan lifestyle. It tastes way better than soy, almond, hemp, pea, rice, or any other dairy-free milk. Plus it doesn't have any sweeteners or flavorings to get in the way. The delicious taste is 100% natural.
Enjoy a refreshing glass of cashew milk at any time. Unlike liquid milk, you can take our cashew milk powder on planes and travel with no problems. It's a backpacker's dream as it doesn't require refrigeration.
The cashew milk powder is unsweetened and unflavored. It contains no artificial flavors, added sugar, lactose, soy, or gluten. To make 8 oz of cashew milk simply mix 1 oz of cashew milk powder with water. It's also delicious mixed with cereal, yogurt, or smoothies.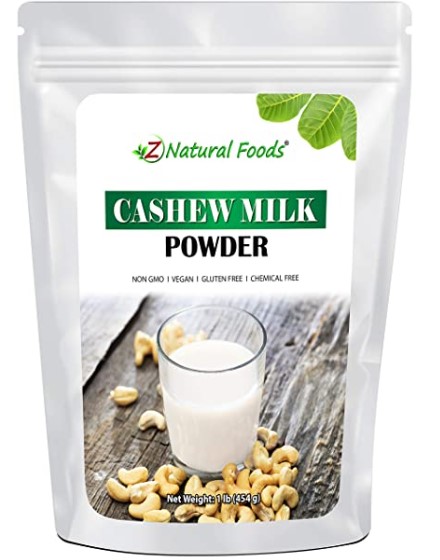 Pin
Features:
Vegan
Gluten-Free
Non-GMO
Kosher
Dairy-Free
Toasted Coconut Almondmilk is a smooth and creamy blend of almond milk and coconut cream with the blissful flavor of toasted coconut. It's sugar-free, but still totally delicious. Always plant-based, always dairy-free.
Toasted Coconut Almondmilk is an excellent source of calcium. Califia Farms plant milks are made with plant-based, dairy-free ingredients that are Non-GMO Certified, Kosher, vegan, and free from carrageenan.
Toasted Coconut Almondmilk is perfect for baking and making your favorite dessert recipes. Pour over cereal, blend into smoothies, add to coffee, or drink it straight from a glass. This plant milk is deliciously versatile.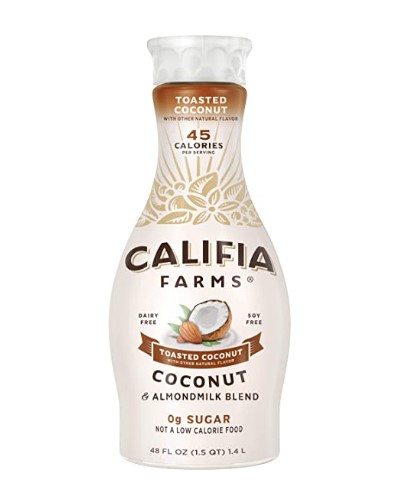 Pin
Features:
Kosher Certified
Vegan
Non-GMO
Soy-Free