If you are a vegan or perhaps are on a low-fat diet, or just cutting out dairy, your gonna want to know more about these vegan ricotta substitutes. Many think that switching to a vegan diet is too hard, however living a plant-based lifestyle has never been easier than it is today. Contrary to what you may think there's a vegan replacement for everything from milk to meat. And today we'll be sharing with you vegan ricotta substitutes.
From beet burgers that bleed to tofu shrimp, it has been shown that taking the leap to a vegan diet can have major health benefits for both your body and the world. From reducing cholesterol to cleaning up your carbon footprint, there are plenty of reasons to choose a plant-based diet. Most people think that the only way you can get your protein is by consuming meat, eggs, and dairy. You'll be surprised to learn that this is totally false. All you need to do is do some research.
We can all agree that going without cheese isn't easy, especially if you have loved cheese for most of your life and are now joining the vegan lifestyle. What you need to be clear on is that it is totally possible to get your cheese as a vegan by finding delicious vegan ricotta substitutes such as the ones we have shared with you in this guide, continue reading as we will help you get your cheese fix without breaking your diet.
Vegan Ricotta Substitute FAQs
What is ricotta?
Ricotta is a whey cheese that was first crafted in Italy. It's white, fresh, mild, and slightly sweet with a soft, fluffy texture. Ricotta is typically made from cow, sheep, goat, or water buffalo milk whey. Traditionally, the whey used to make ricotta was obtained from the production of other cheeses.
What can you use vegan ricotta substitute for?
Vegan ricotta substitute cheese is healthy and light, this ricotta cheese substitution is great for pasta dishes like lasagna, manicotti, and ravioli, and it also works well in vegetable bakes and casseroles. It is also refreshing as a cool and creamy addition to a fresh salad.
What is vegan ricotta cheese made from?
Dairy-free ricotta can be made with cashews, almonds, tofu, and coconut yogurt. Ingredients like nutritional yeast, lemon juice, garlic, and herbs can also be used in vegan ricotta recipes.
What type of tofu should you use for dairy-free ricotta?
There are two major types of tofu: silken and regular tofu. They come in a variety of textures: extra-soft, soft, medium, medium-firm, firm, extra-firm, and super firm. Non-silken tofu is also known as regular tofu. You should use extra-firm silken tofu for dairy-free ricotta.
You may find that silken tofu is packaged differently than regular tofu, which means silken tofu may be in a different area of the grocery store. Because silken tofu does not require refrigeration, you may have to look harder to find it. You'll also find both solid and crumbled varieties of silken tofu. The best option to go with is drained and crumbled.
How can you make homemade vegan ricotta firmer?
It can be wrapped in cheesecloth, formed into a ball, and placed into a fine-mesh strainer set over a mixing bowl for up to 3 days. This will allow the "cheese" to firm up a bit. However, this is optional. You can also transfer it straight from the blender to a storage container and refrigerate it.
How to store vegan ricotta substitute cheese?
Dairy-free ricotta cheese has a very short shelf life, unlike regular ricotta cheese which can hold up to 1 to 2 weeks after being opened, the dairy-free ricotta option only keeps for up to 3 days. If you don't plan to eat the entire portion during this short time, cut the recipe down to the perfect amount for you.
Dairy-Free Ricotta Cheese Recipes for Vegans
Tofu Ricotta
Ingredients:
2 (12-ounce) blocks of extra-firm silken tofu
1 teaspoon honey, or agave nectar
2 teaspoons apple cider vinegar
2 teaspoons kosher salt, plus more to taste
Steps:
Gather the ingredients. In a small bowl, mash the tofu with a fork or crumble it with your hands.
Mix in the remaining ingredients until well combined.
Almond Ricotta
Ingredients:
2 cups slivered blanched almonds
2-3 tsp nutritional yeast (plus more to taste)
2 Tbsp lemon juice
1/2 – 3/4 tsp sea salt
1 dash garlic powder
3/4 – 1 cup water
2-3 Tbsp fresh basil, oregano, or parsley
Steps:
Add all ricotta ingredients to a high-speed blender and blend until smooth and creamy. You are looking for a well-puréed mixture with only very small bits of almonds intact. Add a bit more water a little at a time if the mixture is having a hard time blending until smooth.
Taste and adjust flavor as needed, adding more salt for overall flavor, nutritional yeast for cheesiness, and lemon juice for acidity.
Store leftovers covered in the refrigerator for up to 5-7 days.
Cashew Ricotta Cheese
Ingredients:
1 1/2 cups raw cashews, soaked
1/2 cup water
juice of 1 large lemon or 1 tablespoon apple cider vinegar
1 – 2 tablespoons nutritional yeast, optional
1 small garlic clove
1/2 teaspoon onion powder
Himalayan sea salt & cracked pepper, to taste
Steps:
Soak cashew in cool water for at least 2 hours in a bowl of water, covering the cashews with about 2 – 3 inches of water as they will swell up.
For a quick method of soaking, let cashews sit in hot water for 5 minutes.
Drain cashews and place all remaining ingredients into a blender or food processor, process until creamy stopping to scrape down the sides every few minutes.
Taste for flavors adding any additional ingredients. Some like salty ricotta so feel free to add as much salt as you want.
Vegan Ricotta Substitute
Not just ice cream anymore! Tofutti makes a wide variety of other dairy-free soy-based products like our dairy-free Better Than Cream Cheese, Sour Supreme, and Ricotta Cheese.
Tofutti has been crafting dairy-free food since the '80s. The New Jersey-based band has roots in vegan ice cream but now offers various cheeses, too.
The company's vegan ricotta aptly called "Better than Ricotta" is made with tofu, soy protein, brown rice, and olive oil.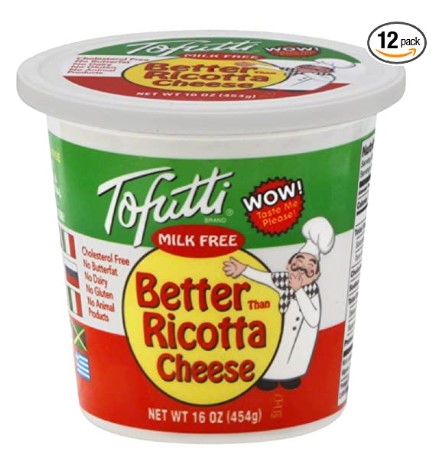 Pin
Features:
Cholesterol-Free
Dairy-Free
Contains 1- 8 Ounce Container of Kite Hill Almond Milk Ricotta Cheese Alternative. Dairy-free ricotta cheese has a buttery finish with a hint of sweetness.
The Almond Milk Ricotta Alternative is dairy-free, soy-free, gluten-free, vegan, kosher, and is a Non-GMO Project verified with no artificial preservatives.
Made from creamy almond milk, Kite Hill Almond Milk Ricotta Cheese Alternative is rich in flavor and versatile for many recipes. With a rich and creamy texture, our ricotta can be used in savory recipes such as lasagna, pancakes, cakes, or even as a replacement for mascarpone in desserts.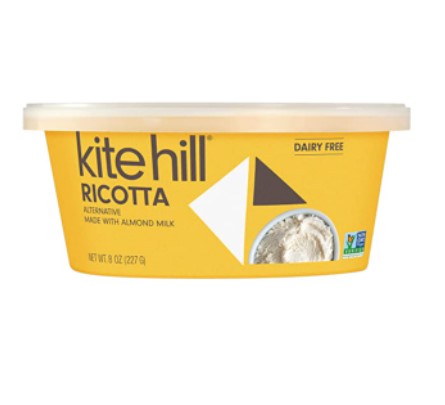 Pin
Features: