Most people think taking the leap to a vegan lifestyle is just too hard because they wrongly believe food options are pretty limited when in reality there's a vegan replacement for everything, yes even for chicken. As a result, today we'll be sharing with you an amazing vegetarian substitute for chicken that you will absolutely love.
Protein from chicken is a huge part of a balanced diet, and even though chicken is clearly not vegan, there is actually a plant-based option so vegans do not have to limit their food choices or sacrifice their protein consumption. So contrary to what you may think living a plant-based lifestyle has never been easier than it is nowadays, and the best part, these vegetarian substitutes taste simply delicious.
It has been shown that a vegan diet can have major health benefits for both your body and the world. What you need to be confident about is that a healthy and tasty chickenless dish is possible with a great vegetarian substitute for chicken. So whether you are a vegan or just trying to cut chicken from your diet due to poultry meat allergy, you can now satisfy your taste buds thanks to the different vegetarian substitutes for chicken we've shared below.
Vegetarian Substitute for Chicken FAQs
Why avoid chicken?
Vegetarians and vegans are very much against the slaughter of chickens and other poultry animals. And there are also those with health concerns such as rare allergy to poultry meat, kidney problems, heart disease, dyslipidemia, and high cholesterol levels, who may have to lessen their consumption of chicken meat or stop eating it altogether.
Plus, some places may be affected by the Bird Flu or the Avian Flu, whose two types -the H1N1 and H7N9, can be passed on to humans.
What is a good substitution for chicken?
Seitan: Seitan is also known as wheat meat, wheat protein, and wheat gluten since it is made from hydrated gluten. Seitan can be used in place of beef or chicken in nearly any recipe. For instance, try it out in a vegan Mongolian beef stir-fry.
Tofu: Tofu is probably the most popular alternative for chicken and other kinds of meat. It is made from coagulated soy milk.
Tempeh: Tempeh is often confused with tofu, but they are two different things. Tempeh is made from fermented soybeans that are transformed into a firm, compact cake.
Beans and Sprouts: Beans and sprouts are another protein-rich alternatives to chicken meat, that can be very filling and perfect to use in soups and stew.
Nuts: Nuts are among the favorite ingredients for vegetarian dishes. They are great substitutes for chicken meat as they are also full of protein and add texture to salads and other dishes.
Potatoes: Another popular substitute for chicken and other meats is potatoes, they are often used to make vegetarian versions of some dishes such as burgers, soups, and casserole. It is said that potatoes can imitate the texture of chicken relatively well.
Soy curls: These are dehydrated soy products made by soaking the beans in fresh water and then constantly stirring them while they cook. They then get dried at low temperatures which hold in the nutrients making soy curls a fiber and omega-3 rich food.
Cauliflower: Not only does the cauliflower provide a healthy, whole food option, but it also absorbs any flavor you give it. Beyond that, the texture is out of this world. With crispy battered skin and a melt-in-your-mouth buttery inside cauliflower is a game-changer.
Can chickpeas replace chicken?
Use equal amounts of cooked chickpeas (by volume or weight) for cooked or raw chicken or turkey. When a meat-based recipe such as chili or soup already calls for beans, try adding a different type to replace the meat.
Can you substitute jackfruit for chicken?
Jackfruit is a very large tropical fruit often used as a meat substitute. It packs some nutritional wallop, and the fact that you can cook, chunk, or shred it like chicken or pork makes it a go-to main ingredient in many vegetarian and vegan dishes. Its flavor is neutral, and it takes to all kinds of seasonings.
What brands are known to make chicken substitutes?
Beyond Meat
Beyond Meat is one of the newer companies for meat substitutes. Their products are vegan and free of GMOs, gluten, and soy. Beyond Meat also makes sausages, chicken substitutes, and meat crumbles.
Gardein
Gardein makes a variety of widely available, ready-to-use meat substitutes. Their products include substitutes for chicken, beef, pork, and fish, and range from burgers to strips to meatballs. Many of their items include sauces such as teriyaki or mandarin orange flavoring.
MorningStar Farms
They make several flavors of veggie burgers, chicken substitutes, veggie hot dogs, veggie bowls, meal starters, and breakfast "meats." While the majority of their products are not vegan, they do offer vegan burgers.
Vegetarian Substitute for Chicken
A delicious meat-free meal for any diet, MorningStar Farms Original Chik Patties feature a lightly seasoned patty with a crispy, crunchy breading outside and tender inside.
Ideal for an array of recipes, these vegan patties can become part of a satisfying sandwich, wrap, or even a delicious pasta dish. Stock this convenient resealable bag in the freezer for an exciting anytime meal you can easily prepare in an oven or microwave.
Whether you're putting together a winning spread for game night, preparing a meal to share with the whole family, or just seeking a quick and convenient lunch or dinner, MorningStar Farms Original Chik Patties are a delicious choice sure to please meat-lovers and vegetarians alike.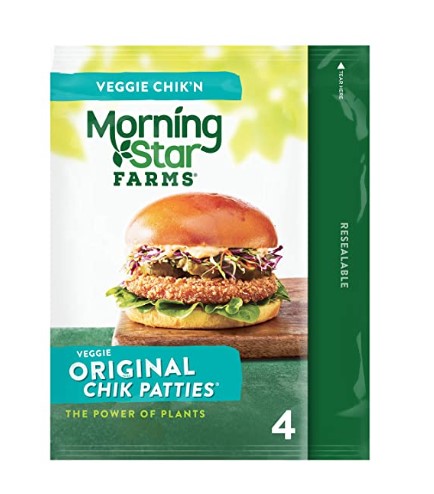 Pin
Features:
Plant-Based Protein
Vegan Meat
Enjoy a filet that's perfectly seasoned and ready to saute, better-than-takeout crispy chicken, or even a sandwich that is crispy on the outside and juicy in the middle. You'll love these no-guilt options to create your new favorite meals.
Gardein offers a variety of meatless meats that are full of mouth-watering flavor. With multiple tasty options that are made with our garden-based chicken, pork, and beef substitute.
Gardein makes being a vegan, vegetarian, or flexitarian, delicious! Now you can skip meat for a meal, or a month, without skipping your favorite foods.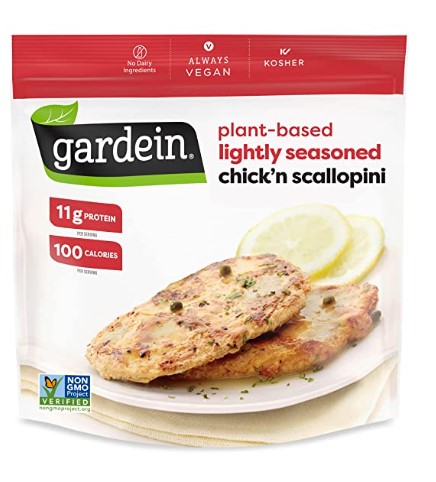 Pin
Features:
Vegan
Gluten-Free
Low Fat
Best tasting plant-based meats because Hungry Planet meats are chef-crafted. Taste so hearty and its texture so meaty that carnivores, vegetarians, vegans, and everyone in between will love it.
Hungry Planet goes far beyond burgers with our broad selection. Nothing is impossible in plant-based meats with a wide variety. Packed with protein and fiber, Hungry Planet is the healthful way to be kinder to your body and our planet.
Hungry Planet zero cholesterol types of meat allow you to eat the meals you love while treating your body with kindness.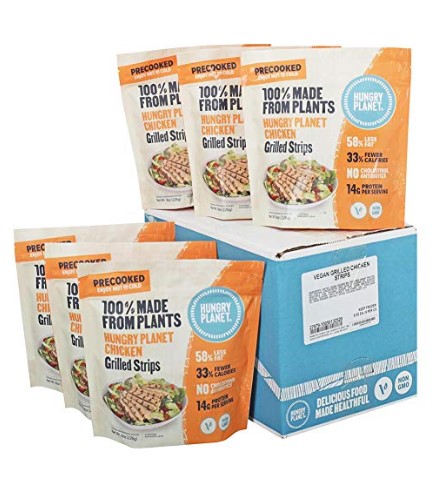 Pin
Features:
One serving of these new Soy Curls from Butler Foods provides 10 grams of all-natural soy protein! Very versatile and can be incorporated into all kinds of recipes to add natural protein and fiber.
Simply soak for about 10 min. in warm water to rehydrate, and they're ready to add to your favorite dish. As they are unflavored, they can take on any flavor you wish them to.
Contain all the fiber and protein of select whole soybeans. All-natural, no preservatives or additives, and no chemicals used in processing. Soy Curls make a great addition to soups, casseroles, potatoes, rice, stir-fry, noodles, spaghetti sauce, chili, pizza topping, salads, curries, enchiladas, and much more!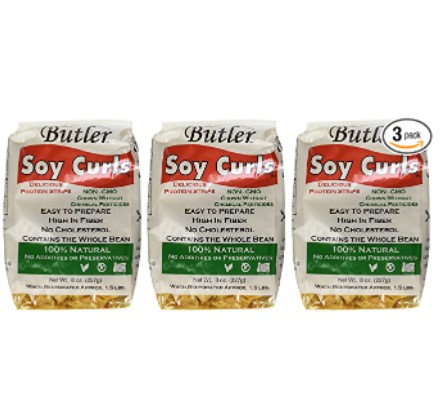 Pin
Features:
Gluten-Free
Vegan
Non-GMO
Contains the Whole Soy Bean
100% Natural
As a vegetarian, you quickly understand that most folks have different tastes, and to be successful you need to be a bit creative.
Simply stated, Jackfruits's sole purpose in life is to take on the flavors of the spices you add to it and make it taste like a protein (beef, pork; even chicken). It accomplishes this feat by having the bite and mouthfeel of real meat.
If your goal is to use this product to create faux meat dishes, then it should be young jackfruit, and come packed in filtered water with a pinch of sea salt, and possibly a dash of lime juice. And, being organic is also a plus.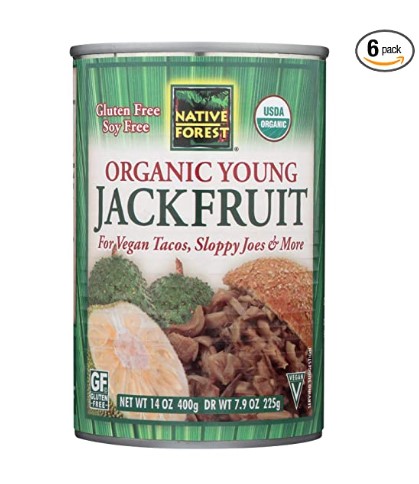 Pin
Features:
Gluten-Free
Soy-Free
Organic