Wondering what on earth vegans use as an egg substitute for pancakes? We hear you. Most people think taking the leap to a vegan lifestyle is just too hard because they wrongly believe food options are pretty limited when in reality there's a vegan replacement for everything. As a result, today we'll be sharing with you an amazing vegan egg substitute for pancakes.
Eggs are a huge part of a balanced diet, and also a key ingredient in soft, fluffy, delicious pancakes. Contrary to what you may think living a plant-based lifestyle has never been easier than it is nowadays. Even though eggs are clearly not vegan, there is actually a plant-based option so vegans do not have to limit their food choices or sacrifice their craving for pancakes.
It has been shown that a vegan diet can have major health benefits for both your body and the world. What you need to be confident about is that it is totally possible to get the egg-like consistency of a regular egg without giving up taste. So whether you are a vegan or just ran out of eggs but want pancakes for breakfast, you can now satisfy your taste buds thanks to the different vegan egg substitutes we've shared below.
Vegan Egg Substitute for Pancakes FAQs
Why are eggs used in pancakes?
Eggs act as a binder. This is one of the most important functions of eggs: they hold baked goods together.
Eggs make things fluffier. Eggs help foods to rise, leaven or puff up, making them have a light and airy texture.
Eggs add color and richness in flavor. The egg yolk helps for a golden brown appearance: this is especially noticeable in pancakes. It also adds a rich savory flavor to recipes.
Eggs add moisture. One large egg contributes about 3 tablespoons of moisture to the overall recipe.
What are common vegan substitutes for eggs?
Apple sauce
Using apple sauce is a fat-free way to replace eggs in baked goods. Use ¼ cup of unsweetened apple sauce to replace one egg. As well as reducing calories, this vegan egg replacer adds moisture and flavor to cookies, cakes, muffins, and bread.
Aquafaba
Aquafaba is the name for the viscous water in which legumes such as chickpeas have been cooked. Roughly translated from the Latin for 'bean water', this vegan substitute can be used in place of egg whites since the proteins and starches are structurally very similar.
Black salt (kala namak)
Black salt, also known as kala namak, is a volcanic salt traditionally used in Asian cuisine. Due to its high sulfur content, black salt has a strong flavor that mimics the taste of eggs, making it a very popular ingredient in vegan cuisine. It works well in tofu scrambles, vegan egg salads, quiches, frittatas, and vegan French toast, although it should be used sparingly.
Flaxseed (aka linseed)
This nutritious seed is packed with antioxidants and can also be used as a vegan egg substitute in baking and cooking when ground. Combine a tablespoon of ground flaxseed with 3 tablespoons of water, stir to combine, and let stand for 5 minutes to thicken.
Silken tofu & firm tofu
Tofu is a protein-packed vegan egg substitute, while silken tofu adds a creamy texture when used as an egg substitute in cheesecakes, ice cream, sour cream, or puddings. Firm tofu is a great option for egg-free cooking and works best in savory dishes such as eggless quiches, lasagne, vegan egg salad, or a breakfast scramble.
Tapioca starch
Tapioca starch is used as a binding or thickening agent for sauces, puddings, and condiments. Use 1 tablespoon of tapioca starch, blended with 3 teaspoons of water, to replace one egg.
Chickpea flour
High in protein, chickpea flour works as both a binding and raising agent and is one of the best natural egg replacements in baked goods such as scones, cookies, and biscotti. With a surprisingly similar texture and flavor to eggs, chickpea flour has also become a common egg substitute in omelets and quiches.
What are the best vegan substitutes for eggs in pancakes?
Applesauce: Fruit purees are a well-known substitute for eggs and for oil in recipes since they add moisture and a bit of binding. Use ¼ cup applesauce to replace 1 egg in pancakes.
Ripe bananas: Ripe bananas work as a vegan egg substitute by adding moisture to plant-based recipes, while also imparting sweetness. However, be sure to add more of the raising agent (such as baking powder) to avoid dense baked goods. Ripe bananas are best suited for cakes, pancakes, and brownies.
Nut or seed butter: Any type of nut butter: peanut butter, almond butter, or cashew butter! Nut butter does a few things: it helps to work as a binder to stick the batter together, and it adds a lovely richness to the flavor. It also helps with a golden brown color.
Yogurt: Greek yogurt or sour cream are common tricks to add moisture to pancakes. Yogurt can also act as a replacement for an egg. You can use unflavored plain or Greek yogurt. Substitute ¼ cup yogurt for every 1 egg in your pancake recipe.
Flax egg: You can make flax eggs at home using ground flaxseed and water. Mix the ground seeds with water, and after 15 minutes they turn into a gel-like substance you can use as a binder in vegan baked goods. This works great in pancakes and other baked goods like banana bread and cookies.
Is there an egg substitute powder?
Absolutely! Several options for egg substitute powders can be found in most grocery stores. Versatile, vegan, and gluten-free, they usually contain starch or flour and a raising agent and make for an excellent egg replacement when the volume is important. Egg substitute powders won't add unwanted flavor or sweetness and can be used in cookies, muffins, cakes, and as a binding agent in vegan casseroles or vegan meatloaf.
Pancakes Without Eggs Recipe
Ingredients:
2 tablespoons vegan butter
1 tablespoon chia seeds
1 ¼ cup plant-based milk (vanilla or plain)
¼ cup applesauce
2 tablespoons agave nectar
1 teaspoon vanilla extract
1 ¼ cup whole wheat pastry flour
2 teaspoons baking powder
½ teaspoon baking soda
¼ teaspoon salt
Steps:
Place vegan butter in a microwave-safe bowl. Heat for 30 seconds in the microwave. Add the chia seeds, milk, applesauce, agave, and vanilla. Stir to combine. Set aside.
In a separate bowl, combine the flour, baking powder, baking soda, and salt. Stir to combine.
Heat a skillet over medium to medium-high heat. You can either spray the pan with vegetable cooking spray or use a half teaspoon of vegan butter to coat the pan.
Pour the plant-based milk in with the dry ingredients and stir to combine. Some lumps are fine.
Once the skillet is hot, pour the pancake batter (using a ¼ cup measuring cup) into the prepared skillet. Cook until bubbles form on the top side of the pancakes.
Use a spatula to flip the pancakes and cook on the other side until golden brown. Place cooked pancakes on a plate and repeat this process with the remaining batter.
Serve warm with vegan butter, maple syrup, fruit jam, and or fresh fruit.
Vegan Egg Substitute for Pancakes
Aquafaba powder is the dried version of the liquid remaining from cooking chickpeas. This liquid absorbs proteins and starches from the chickpeas which give it properties very similar to egg whites.
Used for baking, meringues, whipping into soft and hard peaks, mousses, fudges, nougats, ice cream, vegan dairy products, icings, marshmallows, mayonnaise, and many more possibilities!
The perfect vegan egg substitute for cooking and baking. Pure and 100% plant-based! All-natural powdered chickpea broth. 7-ounce container yields 14 cups of aquafaba liquid, equivalent to about 74 eggs or 112 egg whites. Easy to use and store. Shelf-stable up to 2 years. Certified non-GMO.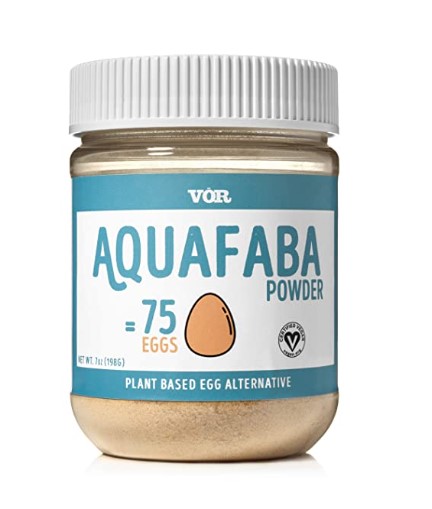 Pin
Features:
Vegan
Non-GMO
100% Natural
Vegg is a tasty egg substitute loved by vegans, people with egg allergies or dietary restrictions, and nutritious-conscious eaters looking to eat cleaner or reduce their cholesterol & fat intake.
Vegg Uncaged Baking Mix simulates the same function and tastes like eggs, without the eggs. It's a healthy, plant-based egg replacement that allows you to make your favorite baked treats.
Simply mix Vegg Uncaged Bake Mix with water to create the perfect egg-free ingredient for cooking & baking. Now you can have your favorite cakes, bread, cookies, quiches, and more without using eggs.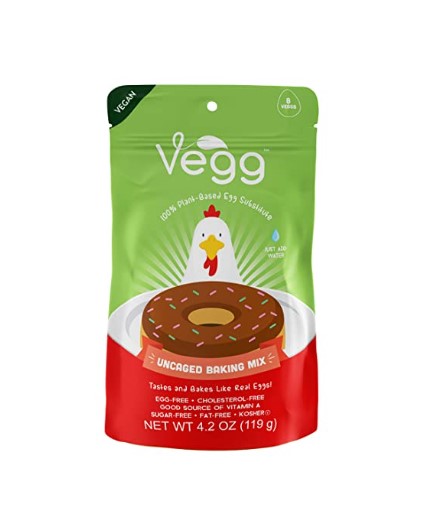 Pin
Features:
Plant-Based
Natural
Pea Protein
Bob's Red Mill Gluten-Free Vegan Egg substitute is a vegan baking essential made with four simple and clean ingredients: potato starch, tapioca flour, baking soda, and psyllium husk fiber; no grains, soy, gluten, or beans.
This proprietary powdered egg substitute is the perfect ingredient for egg-free baking and can be used in cakes, cookies, muffins, pancakes, quick bread, and more.
It's super easy to use; just add water in varying amounts depending on if you are replacing an egg white, yolk, or whole egg. With each package containing the equivalent of 34 eggs. A great choice for those watching their cholesterol intake as it is cholesterol-free!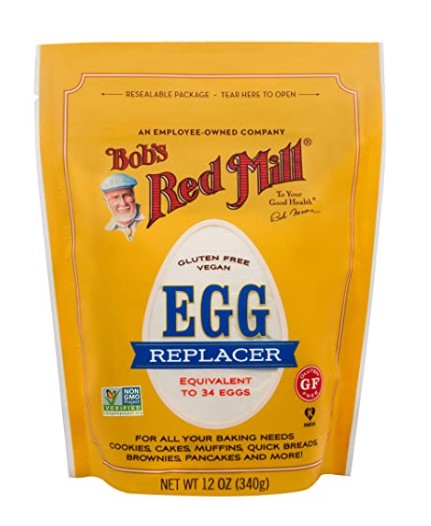 Pin
Features:
Gluten-Free
Cholesterol-Free
Soy-Free
The neat egg is the perfect plant-based baking companion, used in recipes where the egg is a binder and not a stand-alone egg. Easy to mix, combine 1 tablespoon of neat egg mix with 2 tablespoons of water and mix well.
Enjoy all your favorite baking recipes such as cakes, brownies, cookies, and muffins with this healthy egg alternative. Derived from only two superfood ingredients, chia seeds, and garbanzo beans.
Creators of the neat product line are determined to please all eaters and provide a solution for special dietary restrictions.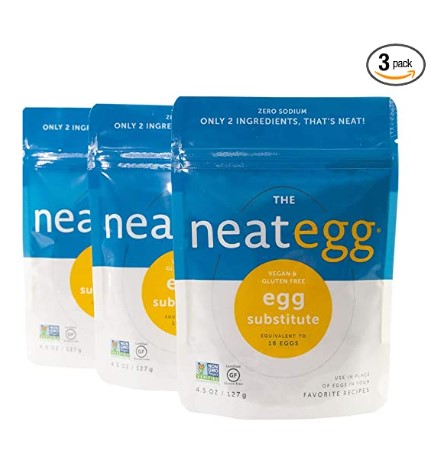 Pin
Features:
Soy-Free
Gluten-Free
Non-GMO
Vegan Egg Replacer for baking mimics what eggs do in recipes to bind baked food together, but it's completely egg-free.
Ener-G Egg Replacer simplifies baking for people who cannot use eggs. Use it to replace both egg whites as well as egg yolks. It is gluten-free and made from potato starch and tapioca starch flour.
Perfect for those with food allergies or restrictions, or just watching their nutritional intake. Egg Replacer is Vegan, Gluten-Free, No Preservatives, Non-GMO, and Kosher certified. One 16 oz package is equal to 100 eggs.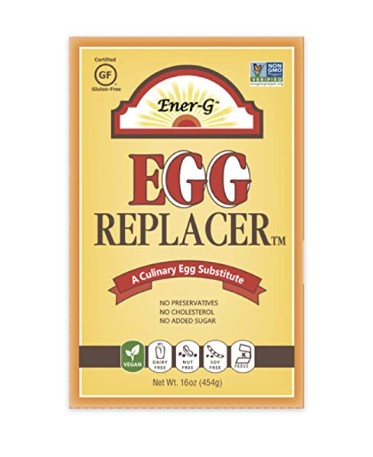 Pin
Features:
Gluten-Free
Vegan
Nut-Free
Non-GMO
Kosher
Made entirely from plants, JUST Egg is free of cholesterol and uses less water and carbon emissions than conventional eggs. Delicious, healthier, and more sustainable. It's a better egg, for you and the planet.
To use, simply scramble like an egg. Makes delicious, fluffy breakfast scrambles, and is also great for omelets, quiches, fried rice, French toast, waffles, Pad Thai, breakfast sandwiches, and more.
JUST Egg is for plant-eaters and meat-eaters. Fluffy and filling, JUST Egg is more than the vegan egg replacer, egg substitute for baking, or scrambled egg mix you've tried before.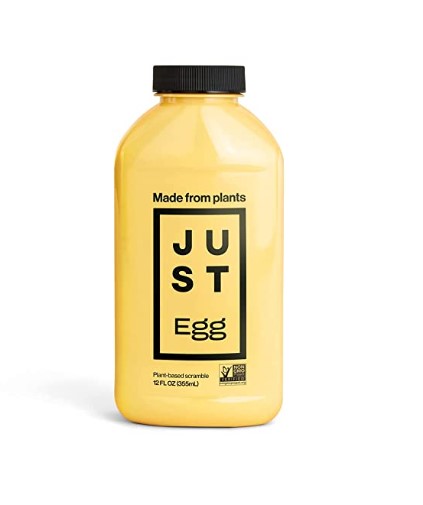 Pin
Features:
Cholesterol-Free
Egg-Free
Dairy-Free
Non-GMO
Allergy-Friendly