When you are sensitive to dairy, you are bound to look for dairy-free alternative foods that remain delicious and simple, however, what do you do when it comes to evaporated milk? Is there a vegan substitute for evaporated milk? If you are on a vegan diet, or just cutting out dairy, your gonna want to know more about vegan substitutes for evaporated milk.
Evaporated milk is a common ingredient in many creamy soups, desserts, and sauces. The good news is there are several store-bought or homemade options for coming up with a simple vegan substitute for evaporated milk.
And if you had been hesitant about making the switch to the vegan lifestyle, keep in mind it has been shown that a vegan diet can have major health benefits for both your body and the planet.
We can all agree that going without dairy isn't exactly easy, especially when you first become a vegan. What you need to be clear on is that it is totally possible to obtain evaporated milk as a vegan by finding delicious vegan substitutes such as the ones we have shared with you in this guide.
Vegan Substitute for Evaporated Milk FAQs
Is evaporated milk vegan?
As the name suggests, no, evaporated milk is not vegan. This canned product is made by exposing dairy milk from cows to high temperatures to reduce the liquid concentration by about 60%. This produces a thicker liquid that has more flavor than traditional milk.
Why do you need an alternative to evaporated milk?
Taste or missing ingredient: Some people do not like the taste of evaporated milk, while others may simply have run out.
Lactose intolerance: Approximately 70% of people worldwide are lactose intolerant. This means that they are unable to digest the sugar in milk properly.
Milk allergy: Between 2–7% of children and up to 0.5% of adults have a milk allergy. As all milk products contain milk proteins, a non-dairy alternative is more suitable.
Vegan or ovo-vegetarian diet: Some people choose to avoid animal products (including milk) for health, animal welfare, environmental or religious reasons.
Calories: Depending on whether you want to lose or gain weight, evaporated milk can be substituted with a higher or lower calorie alternative.
Reducing protein intake: Evaporated milk is high in protein, with 17 grams per cup. Some people on special therapeutic diets may require another option for a lower protein intake.
What do vegans use instead of evaporated milk?
There are plenty of plant-based products that can be used in place of evaporated milk, such as soy, rice, nut, oat, flax, hemp, quinoa, and coconut milk.
Can vegans use evaporated milk?
Evaporated milk is simply milk that has been cooked to evaporate up to 60% of the water content. This means you can make a vegan substitute using plant-based milk and a saucepan.
What are good vegan substitutes for evaporated milk?
Oat Milk
Oat milk is one of the reasonably thick milk, although you will still need to boil it and thicken it up before you start using it in cooking.
The great thing about using oats is that they don't really affect the flavor of the recipe too much, so you can include them without ruining the original flavor and texture of the dessert.
Dairy-Free Milk
Since evaporated milk is just milk heated down, it makes sense that you should be able to make vegan evaporated milk by heating dairy-free milk.
Canned Coconut Milk
One of the simplest ways to substitute for evaporated milk requires no cooking or preparing at all. Lite canned coconut milk has a thicker texture than most plant milk and a sweetness level that is similar to evaporated dairy milk. This makes it the perfect non-prep, one-to-one substitute for evaporated milk.
Powdered Rice Milk
Another super simple substitute for evaporated milk is to use rice milk powder. This option is especially good if you only need a small amount of evaporated milk or are in a hurry and don't have any canned coconut milk on hand.
Soy Milk
Soy milk is another good alternative for vegans. It is also quite thick and has a neutral flavor that shouldn't affect the dish you're making significantly. Many people enjoy the flavor of soy milk, and as it has a protein content that is similar to dairy milk, it may be suitable if you have to watch your protein intake.
Almond Milk
Like rice milk, almond milk runs into some problems when it is used as a substitute for evaporated milk because it is very thin and has high water content. That doesn't mean almond milk is unsuitable, but you may find it more difficult to cook with, especially if you are trying to create something that is moisture sensitive.
Vegan Evaporated Milk Substitute Recipes
#1 Dairy-Free Milk
Ingredients:
3 cups soy milk or other plant-based milk
Steps:
Pour the milk into a medium-sized pot and place it over medium heat. Bring the milk to a simmer.
Simmer for about 40 minutes, whisking the milk occasionally, until the milk reduces by about half.
Remove from the heat and let cool slightly. If you'd like, strain the evaporated milk to remove any film that might have formed on top.
Refrigerate the milk in an air-tight jar for up to one week.
#2 Powdered Rice Milk
Ingredients:
1 ¼ cup boiling water
1 cup rice or soy milk powder
2 tablespoons vegan butter
Steps:
Add all ingredients to your blender.
Blend until well combined.
Allow the steam to escape slowly before removing the lid completely.
Vegan Substitute for Evaporated Milk
The rice milk is enriched with vitamin B12 and tastes delicious. Feel free to indulge in this milk guilt-free, and get your daily dose of key nutrients.
Koita Premium Italian Plant-Based Rice Milk contains no GMOs nor artificial preservatives. It can be used as a delicious substitute for anything you might use regular milk for – Oatmeal, baking treats, lattes, coffee, baked goods, cooking foods, and cereals.
Rice Milk is known for being the least allergenic of non-dairy milk, which makes it a great choice for someone who is intolerant to lactose or just prefers a delicious alternative.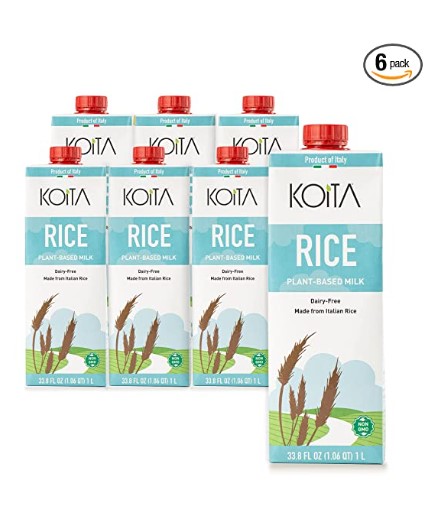 Pin
Features:
Powered by superfood flax that's creamy and delicious, our Flaxmilk +Protein is allergen friendly and packed with 8g of vegan protein per serving.
Made with cold-pressed flaxseed oil, our Flaxmilk +Protein has 1,200 mg of Omega-3s per serving plus essential Vitamins D2 and B12.
Versatile, creamy, fresh, and as always, delicious. Perfect for boosting your protein in pre & post-workout drinks, smoothies, coffee, cereal, baked goods, and more.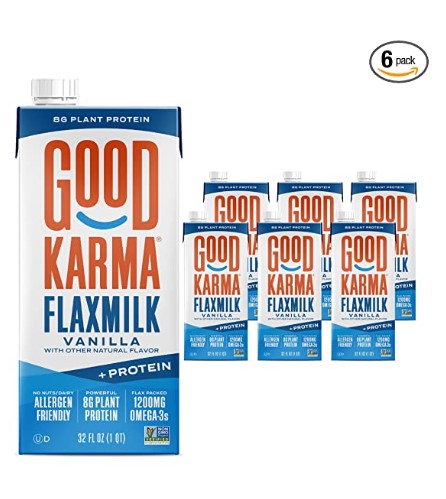 Pin
Features:
Plant Protein
Lactose-Free
Vegan
Shelf Stable
A staple of Thai, Indian & Caribbean cuisines, coconut milk imparts creamy goodness & makes a delicious ingredient in soups, curries, sauces, desserts & beverages. Contains no guar gum.
Organic Coconut Milk may replace dairy milk or cream in some of your favorite recipes with excellent results. It's sourced from certified organic Sri Lankan coconut palms.
Vegetarian products are ethically sourced & suitable for many special diets including vegan, gluten-free, paleo, keto, kosher, organic & low sodium.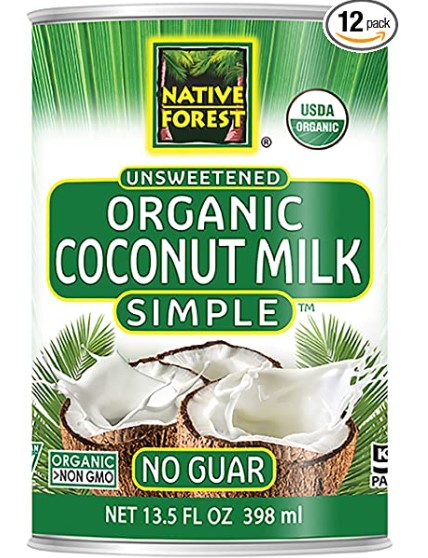 Pin
Features:
Gluten-Free
Dairy-Free
Kosher Certified
Barista blends oatmilk steams, froths, and foams just like dairy milk and tastes delicious by itself. Natural starches give this oat milk a creamy, smooth texture without any gums, stabilizers, or carrageenan.
Barista Blend Oatmilk has a mild and sweet malty taste, yet is lower in sugar than sweetened plant milk. Because Califia Farms Oatmilk is naturally thick, no gums, stabilizers, or carrageenan are needed.
The oats used to make this oat milk are grown in North America, by farmers Califia Farms knows and trusts.
This oat milk is an excellent source of calcium and provides 5 g of Omega-9 fatty acids per serving.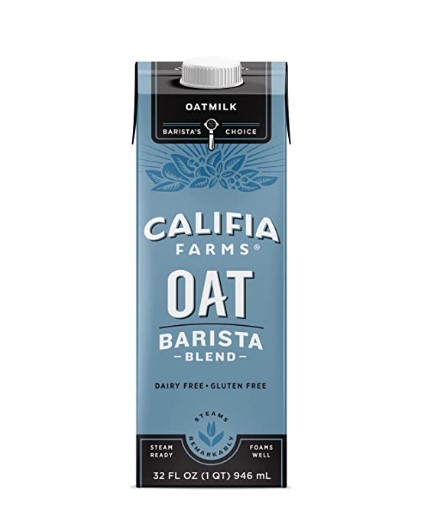 Pin
Features:
Non-GMO |
Gluten-Free
Plant-Based
With 0 grams of sugar, this Barista Blend is made for our espresso lovers. Specially formulated a version of an artisanally-made Almond Milk, just for Baristas.
It is sugar-free and just 35-calories per serving. Easily create full-bodied foam and better latte art (better stretching)
Smooth & Delicious.
It is Shelf stable, Soy-free, dairy-free, gluten-free, carrageenan-free, non-GMO, kosher, and vegan.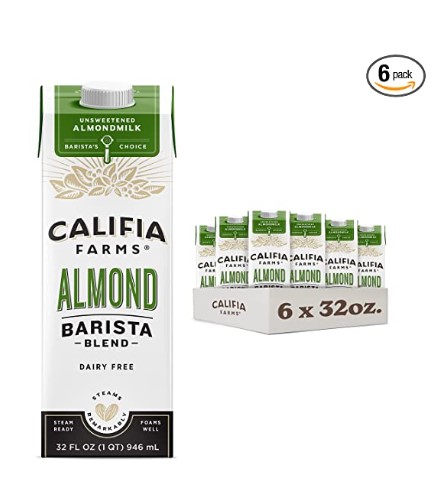 Pin
Features:
Sugar-Free
Keto-Friendly
Vegan
Non-GMO