Looking for a vegan shortening substitute? If you are a vegan or perhaps are on a low-fat diet, your gonna want to know more about these vegan shortening substitutes. Many think that switching to a vegan diet means giving up on delicious food such as baking goods. Contrary to what you may think there's a vegan replacement for everything. With that in mind today we'll talk about vegan shortening substitutes.
Shortening is used to make your favorite pie crust recipe, it is also great for baking biscuits and red velvet sheet cake, or even household tasks like seasoning a cast-iron skillet. For vegans, however, you have vegetable shortening, which was created as an alternative to animal lard and which doesn't have a ton of flavor, but it does make baked goods fluffier and flakier.
With a little research, you'll soon realize there are actually many vegan shortening substitutes that make the life of vegans a lot healthier and easier. This means you can easily whip up your favorite pie recipes without anyone knowing that you were missing an ingredient in the first place.
Vegan Shortening Substitute FAQs
What is shortening and why is it used in baking?
Shortening is flavorless and consists of 100% fat. It's designed to be used in baking applications where its ability to remain solid at room temperature can benefit the ease of preparation of the food as well as the consistency of the dough.
Shortening is frequently used to inhibit gluten formation doughs such as in pie crusts, puff pastry, and shortbread. Solid fats are commonly utilized in baking to make short doughs.
What is dairy-free shortening?
For those who can't tolerate lactose, there are a few dairy-free versions of this ultra-rich spread, including Crisco All-Vegetable Shortening, Spectrum's Organic All-Vegetable Shortening, and Nutiva Organic Vegan Shortening.
Which shortening is vegan?
While you may think of Crisco as that weird oily stuff your Grandma always used in pie crust, the vegetable shortening is actually completely vegan and a great option for non-dairy treats.
What can I use as a substitute for shortening?
Vegetable oil, coconut oil, peanut oil, avocado oil, and grapeseed oil all have high smoke points and can be used for frying; although vegetable oil will truly be your best bet because it's inexpensive and flavorless.
Can I use vegan butter instead of shortening?
Margarine and butter can both be used as a substitute for shortening, though their moisture contents should be taken into consideration before making the swap. While shortening is 100% fat, margarine and butter contain a small percentage of water (so, shortening adds more fat, thus more richness and tenderness).
Are all vegetable shortening vegan?
Vegetable shortening may be vegan but isn't always. Vegetable shortening contains fats from plant sources, but sometimes mono- and diglycerides as well, which can come from plant or animal sources. Vegetable shortening is often made from palm oil, which many strict vegans don't consider vegan.
Why is palm oil not vegan?
Palm oil is made from all plant-based ingredients and no animal products are used in the process. However, since farming of palm oil trees has been linked to an overall negative impact on the planet, including mass deforestation many believe it is not cruelty-free.
Is there a shortening without soy?
Soy Free Shortening. If you have a dairy AND soy allergy, this would be a great alternative to margarine for baking. Another shortening option is Nutiva which is made with palm and coconut oils. Coconut oil is another substitute option that can be used in place of shortening and margarine.
What are good vegan shortening substitutes?
Coconut oil: It has a similar texture and is also vegan, too. You can swap it in one-for-one, but just remember that it will likely give your baked goods a very slight coconut flavor.
Ghee: This allows it to be used in higher heat cooking like frying. Swap it in one-to-one in any pan-fried recipes that use shortening or even in baked goods where you want an extra buttery flavor.
Vegan butter: There are so many vegan butters on the market now, so feel free to reach for one when you need a substitute for shortening in a recipe. Just add one to two extra tablespoons per cup of shortening so you get the right fat-to-water ratio.
Vegan Shortening Recipe – Coconut Oil Base
Ingredients:
¾ cup refined coconut oil
¼ cup canola, light olive oil, or rice bran oil
Steps:
Melt and mix your fats. Melt the coconut oil in a microwave so it's barely melted and as close to room temperature as possible. Measure it and add it and the canola oil to a food processor.
Transfer the Vegan Shortening to a mold and freeze. Process for 1 minute, scraping down the sides halfway through the duration.
Pour the mixture into a mold such as an ice cube tray and place it in the freezer to solidify. An ice cube mold works well. The vegan shortening should be ready to use in about an hour.
How to store homemade vegan shortening?
Store it in an airtight container in the refrigerator for up to 3 months or wrapped in plastic wrap in the freezer for up to 2 years.
Vegan Shortening Substitute
This blend of organic red palm and coconut oils creates an exceptional non-hydrogenated plant-based Organic Shortening for both baking and frying.
While palm oil is ideal for creating flaky baked goods, coconut oil provides the added health benefits of lauric acid. The Organic Shortening is vegan and contains no dairy, soy, or canola.
The bright golden color reveals the presence of antioxidant Vitamins A & E naturally found in red palm oil.
Store at room temperature and away from sunlight. No refrigeration required.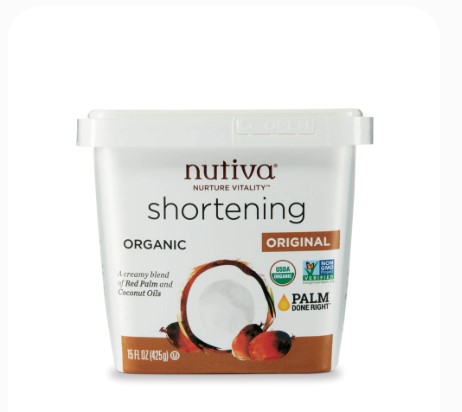 Pin
Features:
Enjoy all of your home-baked sweets and treats, without the dairy, with Earth Balance Unsalted Buttery Sticks.
Creamy and delicious, these non-dairy buttery sticks are non-GMO and are an excellent source of ALA omega-3. No matter the recipe, Earth Balance makes a tasty vegan butter substitute.
Plant-based foods that are delicious; that's Earth Balance and it's that good. Indulge in creamy, delicious, buttery goodness for all of your favorite recipes.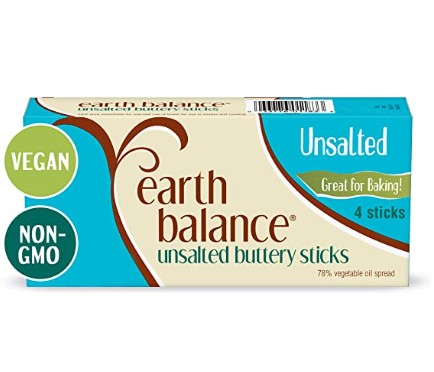 Pin
Features:
Vegan
Non-GMO
Plant-Based
Spectrum Essentials Organic All Vegetable Shortening is better for your body than ordinary shortening because it's never hydrogenated, has zero grams of trans fat, and is made from palm oil, which is naturally cholesterol-free and a good source of heart-healthy monounsaturated fat.
Even better are dozens of small family farmers in Columbia who cultivate and press our palm oil in an environmentally sustainable manner. It's good for you, the farmers, and the earth, just imagine what it does for a pie crust.
Now you can enjoy crispy fries, flaky piecrusts, and rich, creamy frostings without the guilt.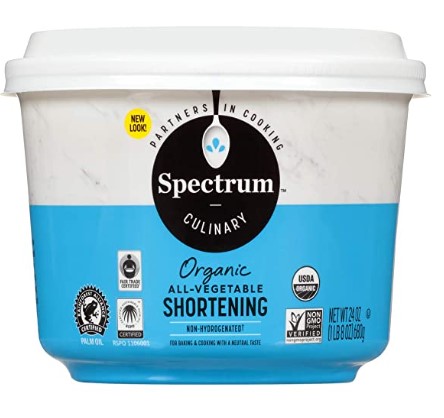 Pin
Features:
Cholesterol Free
Vegan-Dairy Free
Kosher
Gluten-Free
This palm shortening is RSPO Certified. Rated by Greenpeace as the #1 world's most sustainable palm oil operation. Its also certified by the Roundtable on Sustainable Palm Oil.
Free of Trans Fat Carb and cholesterol. Natural Source of antioxidants due to its richness in Vitamin E and Omega 6. Has a neutral taste. Solid at room temperature. Stability against heat and oxidation.
Make the right choice, know you are getting only PURE, super high-quality shortening with no chemicals or preservatives added. Excellent alternative for margarine or butter and can be used in cakes, cookies, creams, and much more.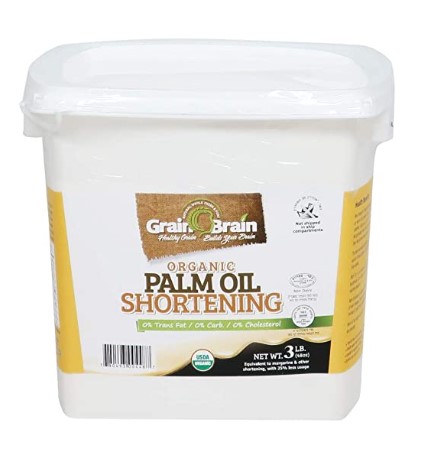 Pin
Features:
Certified Organic
Kosher
Non-Hydrogenated
Coconut oil with mouthwatering butter aroma and flavor for a delicious butter alternative perfect for homemade popcorn, sautéing, baking, and spreading. Heat up to 400° F for a variety of recipes to enjoy the creamy and rich butter flavor made from pure organic plants including sunflower, coconut, and mint.
Nutiva's organic steam-refined coconut oil combined with organic, non-GMO botanical extracts yields a savory, buttery, nutrient-rich oil with high concentrations of MCTs and lauric acid without the use of dangerous and harmful chemicals or hexane.
Ideal for Whole30, vegetarian, vegan, and gluten-free diets.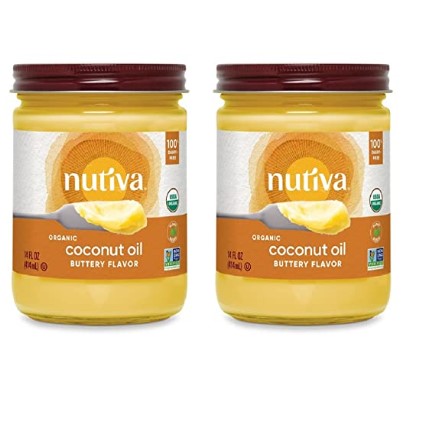 Pin
Features:
Gluten-Free
Plant-Based
Non-GMO
Organic
Plant-based alternative to traditional ghee with the same rich, aromatic flavor and crafted with a unique blend of organic coconut and avocado oils.
An ideal addition to Whole30, vegetarian, vegan, whole food, and ketogenic diets with the benefits of organic coconut oil, avocado oil, and turmeric extract.
Ideal for high-heat cooking with a smoke point of 450°F or as an alternative to butter or traditional ghee. Excellent shelf-stable substitute for butter that spreads easily and boosts nutrition.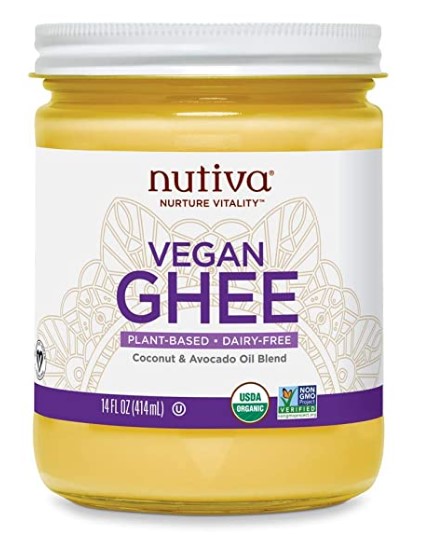 Pin
Features:
Gluten-Free
Dairy-Free
Soy-Free
Vegan
All Earth Balance Vegetable Oil Spreads, Vegan Butters, Natural Peanut Butter, and Vegan Snacks are vegan, meaning they contain no animal or animal by-products.
Enjoy flavorful butter alternatives, creamy nut butter, and crunchy snacks made with zero grams of trans fats per serving. There are so many ways to eat more mindfully with Earth Balance.
The good things in life don't need to be modified, including delicious ingredients. That's why the Earth Balance family of products is made with no genetically modified organisms.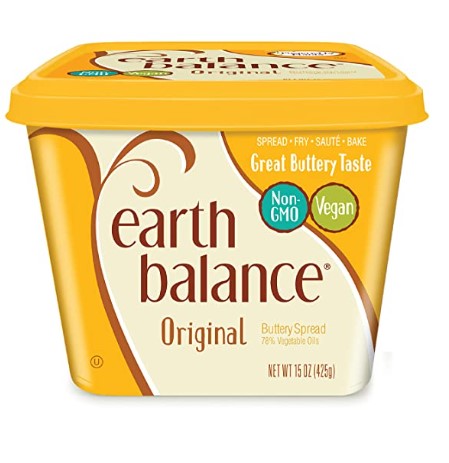 Pin
Features:
Gluten-Free
Lactose-Free
Milk-Free